Special Event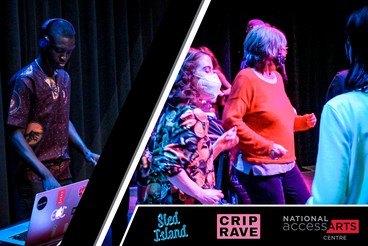 NaAC Ensemble's Album Release Party & Accessible Rave
Join the National accessArts Centre's Music Ensemble in celebrating the release of their very first album! Partnering with CRIP RAVE collective (TO) and Sled Island, the NaAC Music Ensemble decided to celebrate their release their way: with a dance party! CRIP RAVE collective has curated a suite of DJ's to join, and album tracks will be incorporated into sets throughout the event.
Founded in 1975 as the In-Definite Arts Society, the National accessArts Centre (NaAC) is Canada's oldest and largest disability arts organization – and in 2020, became the country's first multidisciplinary disability arts organization. Today, the NaAC supports more than 300 artists living with developmental and/or physical disabilities through on-site studio supports and workshops, and an even broader community of Canadian artists with disabilities through immersive programs delivered online.
CRIP RAVE™ is a Toronto-based collective and event platform showcasing crip-identifying talent and prioritizing Crip, Disabled, Deaf, Mad and Sick body-minds within safer and more accessible rave spaces.
DJs & Times:
6:00 – 7:00 pm – ra / sol
7:00 – 8:00 pm – DJ REGULAR DAD & DJ Vidojee
8:00 – 9:00 pm – DJ Wheel-Sexi
Accessibility Features:
- Easy Access Calgary Drop-Off Point
- ASL Interpretation
- ASL-Music Interpretation
- Accessible Venue
- Gender Neutral Bathrooms
- Peer Support
- Hydration Station
- On-site Alcohol & Harm-Reduction