COMEDY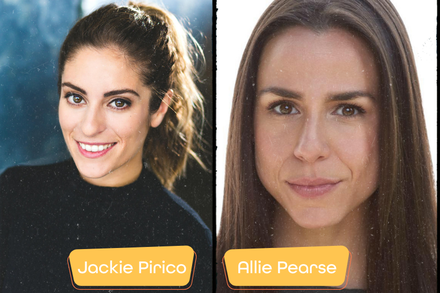 The Comedy Headliner Showcase - Saturday
Sled Island Comedy is back, live and in person for 2022, and we could not be more thrilled! Our Comedy Headliner Showcase will take place over two nights, (June 24 and 25) at The Tea House (1213 1 St SW), and this year's programming features Sled alum Jackie Pirico (Just For Laughs: All Access, CTV's The Stand Up Show, CBC's True Dating Stories), 2022 Juno nominee for Best Comedy Album of the Year, Hisham Kelati, Letterkenny writer Allie Pearse, Vancouver's Maddy Kelly (The Standup Show with Jon Dore, CBC's The Debaters), Lethbridge legend Faris Hytiaa, hilarious local comedian Austin Lonneberg, and Calgary's Best Comedian winner Malik Elassal.
Jackie Pirico
Named by Exclaim! Magazine as a quickly rising force in comedy and an "adept comic scene stealer" by The Hollywood Reporter, Jackie Pirico delights audiences with oddball material and a high-energy style. With multiple television tapings, Jackie's performances can be seen on Just For Laughs: All Access, CTV's The Stand Up Show, CBC's True Dating Stories, and the upcoming second season of CTV's Roast Battles Canada. Catch her live as a member of the prestigious Toronto comedy collective Laugh Sabbath.
Allie Pearse

Allie Pearse is a standup comedian and writer on the award winning show Letterkenny. She is the winner of Just for Laughs 2021 Standup & Pitch competition, has done TV tapings at the Winnipeg Comedy Festival and JFL's New Wave of Comedy, and has performed at the Limestone Comedy Festival. Allie has been featured on Sirius XM radio, has recorded for JFL Originals, JFL's Comedy 101 roast show and OFF-JFL.
Maddy Kelly
Maddy Kelly is a 25-year-old South Indian comedian from Vancouver, BC. As an actress, writer and standup comedian, Maddy seeks to relate to people of all kinds and have fun in every project she takes on. She is best known for CBC's The New Wave of Comedy, The Standup Show with Jon Dore, CBC's The Debaters and being the co-host of the Let's Make A Sci-Fi podcast.
Hisham Kelati

Hisham Kelati is a Toronto-based standup comedian and writer known for his vivid and engaging storytelling. He is a 2022 Juno nominee for Best Comedy Album of the Year for his debut release Tigre King. He performed at Just for Laughs as part of the New Faces showcase in 2019, and that same year he was nominated for Best Taped Performance at the Canadian Comedy Awards, and won Host of the Year at the Toronto Comedy Awards.
Hisham has opened for Saturday Night Live's Chris Redd, and WTF Podcast host Marc Maron. He's performed on CBC Radio's Accent on Toronto and CBC's The Debaters, has written for CBC's hit sketch show TallBoyz, and can currently be seen on CBC's The New Wave of Stand-up and CTV's The Stand Up Show with Jon Dore! He can also be heard on his food and comedy podcast Bites and Bits on The Sonar Network.
Malik Elassal

Malik Elassal is a Lebanese Canadian stand-up comedian, actor, and writer originally from Northeast Calgary. He has been making audiences laugh all over and has appeared at the Calgary Comedy Festival, was a finalist in the Grindstone Comedy Festival, and won Calgary's Best Comedian. He has performed in clubs across the country. He has also acted on TV shows appearing on CBC, CTV, SyFy, and Paramount Pictures. He just taped his first stand up television appearance at the Winnipeg Comedy Festival.
Austin Lonneberg

Austin Lonneberg is a comedian from Calgary, Alberta. With witty jokes and unique stories, he has become one of Alberta's top comedians, and has been featured at the YYCOMEDY Festival, Calgary Fringe Festival and on the JFL original album, Mystery Skin Foam.
Faris Hytiaa
Faris Hytiaa has toured all over Western Canada, headlining and opening for some of the country's best comedians. After his Yuk Yuk's debut in January 2022, Faris showcased at the Just For Laughs Festival for the first time, and signed an agreement with Telus STORYHIVE to film the first Telus Originals comedy special, set to release in 2023.