Special Event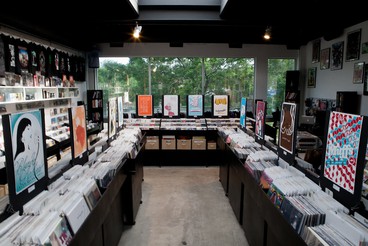 SLED ISLAND DISCOVERY RACK: LPS FROM THE FESTIVAL'S HISTORY
Our good friends at Sloth Records have re-opened as of June 2nd and are dedicating in-store racks to Sled Island's history, carefully curated to carry the festival and store's stamp of approval. From hip-hop to metal to indie pop to avant-jazz and everything in between...sure, you might not be spending any time at the merch table after having your mind-blown this June, but that doesn't mean you can't discover your new favourite band, or finally grip that classic you missed picking up the first chance!
SLOTH RECORDS DISCOVERY RACK:
Sloth will have a rotating selection of records from some of the fest's most memorable artists, but the entire store is filled to the brim with Sled artists. Start with the Sled Discovery Rack, and then, ideally, go diggin' for even more gold!
Thundercat
Shabazz Palaces
Julien Baker
Screaming Females
Mount Eerie
Flying Lotus
Converge
Shonen Knife
Guided by Voices
Kaytranada
Lightning Bolt
Television
US Girls
Drive By Truckers
Peaches
Tim Hecker
The store can be visited in-person, by appointment via 403-265-6585. If you would like to set up a curbside pickup order, we ask that you please email slothrecords@shaw.ca with your wants list for any order requests over 2 titles.
Updated store hours:
Sunday – Thursday: 11 AM – 5 PM
Friday – Saturday: 11 AM – 7 PM
SLOTH RECORDS IN-STORE POLICY:
Maximum of 4 people in the store at all times
All customers must sanitize their hands and/or wear a fresh pair of disposable gloves, which will be provided to you upon entry
Masks are encouraged
Curbside pickup is still very much available and will continue to be until further notice
If you feel under the weather or sick in any way, DO NOT COME TO THE STORE
ABOUT SLOTH RECORDS
Sloth Records features new and used LPs, CDs, 7″s, 10″s, Turntables, Mixers, Serato, Cartridges, Needles, Cleaning Supplies, Books, Shirts, DVD's & Blu Ray, Small Press Comics and Zines, and lots of Local Content! They are also a long-time Sled Island venue and partner.
Sloth Records is located at: 736b 17th Avenue SW in Calgary, Alberta (upstairs from Clive Burger and beside Big Cheese)