Special Event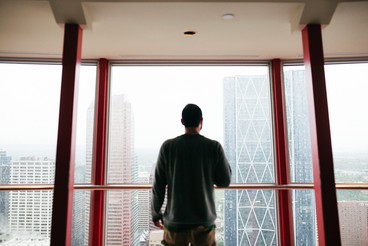 SUPPORT VENUES, COMMUNITY PARTNERS AND LOCAL BUSINESSES THROUGHOUT THE WEEK
As a multi-venue festival that was built on partnerships, Sled Island knows how essential small businesses are to a thriving community. Choosing how and where we spend our money is a great way to contribute to both building the society we want and evening the playing field. Below are great lists of local, Black-owned businesses that we encourage you to discover and support (we're grateful to the people who compiled them), as well as a list of the venues and community partners that provide not just the spaces and resources to make the festival happen, but also build community year-round. We encourage you to support these local businesses and venues within your means to ensure their best chances at survival through 2020 and beyond. Below is a list of their current statuses and offerings, from curbside takeout to socially-distanced opportunities to donation links. Thank you for supporting the local community!

COMMUNITY COMPILED DIRECTORIES OF BLACK-OWNED BUSINESSES
COMMUNITY ORGANIZATIONS
Pink Flamingo

Pink Flamingo presents LGBTQQIP2SAA+ events for inclusive fun in a great environment, ensuring your respect, safety and accessibility. Follow them on Instagram @pinkflamingoyyc.

ProHab

A non-profit organization dedicated to promoting and providing helmets to cyclists who are not wearing them. They encourage safety and strive to break down any image barriers associated with the use of bike helmets and protective gear. You can aquire a helmet in exchange for a donation of any amount to Prohab.
VENUES
FOOD AND BEVERAGE
Alumni Sandwich and Liquor Bar (725 17 Ave SW)

Alumni is currently open for curbside service five days a week (Wednesday - Sunday), from 11:00am - 8:00pm. Order your hot chicken sammy at www.alumnisandwiches.com.

Boogies Burgers (908 Edmonton Trail NE/2129 33 Ave SW)

Get your burger fix from Boogies, now open for takeout Monday to Friday from 2pm-9pm and Saturday & Sunday from 12pm-9pm.

Caffe Beano (1613 9 St SW)

After operating at reduced levels for the past few months, Caffee Beano has officially reopened their indoor and outdoor seating, following social distance protocols. Go out and grab a cup, it will make working from home a little less awful.

Calcutta Cricket Club (340 17 Ave SW)

Calcutta Cricket Club has reopened for dine-in service. Check out their website for hours and more info. We're already dreaming of kati rolls and chai...

Clive Burger (736 17 Ave SW)

Clive Burger is currently closed to the public, but their mouthwatering burgers, franks and custard shakes are currently available on DoorDash. Go on, treat yourself!

The Coup (924 17 Ave SW)

Vegetarians, rejoice! The Coup has officialy reopened for dine-in service. Check out @thecoupcalgary on Instagram for current hours and specials.

Gorilla Whale (1214 9 Ave SE)

Inglewood staple Gorilla Whale is now open for takout, including cook at home & pantry items like frozen gyoza and marinated "grill at home" yakitori sticks.

Home & Away (1207 1 St SW)
Kensington Pub (207 10A St NW)

Kensington Pub has reopened, so you don't have to miss out on your weekly Cod & Chips. Check out @thekensingtonpub for current hours and specials.

Koi (1011 1 St SW)

Koi has reopened for dine-in, and their offering 10% off for anyone who mentions Sled Island!

Monki Bistro (1301 10 Ave SW / 1420 9 Ave SE)

Monki Bistro is now open for dine-in, and still offering take-out and delivery available through DoorDash. So order those S'more Pancakes and eat them in bed. Live your best stay-at-home life!

National on 17th (550 17 Ave SW)

Dreaming of hanging out with pals on the patio? Us too. National on 17th has one of the best patios on the Ave, and they have officially re-opened! Check out their website for update hours.

Native Tongues (235 12 Ave SW)

Native Tongues knows how much we need our taco and tequila fix, and are currently open for takeout and delivery through their website. When ordering use the code SLED10 for 10% off all regular priced items!

Phil & Sebastian (2207 4 St SW / 102 8 Ave SW / 618 Confluence Way SE / 2043 33 Ave SW / 6455 Macleod Trail SW)

Phil & Sebastian have reopened for takeout so you can get in your coffee fix! Check them out at @philandseb for updates and current hours.

Rosso Coffee Roasters (103 17 Ave SE / 140 8 Ave SE / 840 4 St SE / 425 11 Ave SE / 1402 9 Ave SE )

Rosso is open at their Inglewood, Tuxedo, Ramsay and 17th Ave locations for take-out from 7:30am - 5:00pm. and have limited indoor and outdoor seating available. You can also purchase coffee, tea, brewing accessories, milk alternatives and gift cards at www.rossocoffeeroasters.com. They're also offering free home delivery from their website and through DoorDash, because they know what you're like when you haven't had your coffee.

Sidewalk Citizen Bakery (618 Confluence Way SE / 338 10 St NW (inside Sunnyside Natural Market)

Sidewalk Citizen has reopened their Simmons location, which includes limited seating. They are also still offering curb-side pickup, so call 403-457-2245 to order bread, soups, stews and sandwiches to get you through. We can't all be making our own bread at home.

Sunnyside Natural Market (338 10 St NW)

Sunnyside Natural Market will remain open 9:00am - 6:00pm daily, and are offfering curbside pick-up Monday to Friday. Check out www.sunnysidemarket.ca for more details.

Ten Foot Henry (1209 1 St SW)

Ten Foot Henry is closed, but you can purchase a gift card at www.tenfoothenry.com. Don't worry, everyone there is so nice, they won't say a thing about how whack your at-home bang trim looks when you come in for a post-quarantine feast, we promise.

Two Penny (1213 1 St SW)

Two Penny has closed, but gift cards are available for purchase at www.twopenny.ca. You'll probably need to take your roommate out for a peace-making dinner when this is all over, and Two Penny is a great spot to do so.

UNA Pizza + Wine/UNA Takeaway (618 17 Ave SW)

UNA is currently open for takeaway and delivery from 11:00am - 11:00pm. A 4-maggi pizza sounds really good right about now, huh?

Vine Arts Wine and Spirits (101 - 932 17 Ave SW / 1310 1 St SW)

Vine Arts is still open regular hours, but only allowing a maximum of five patrons shop at a time, groups no larger than two, and cash-only payments. An ideal shopping situation, honestly. They are also offering city-wide delivery and curbside pickup. Additionally, they are currently offering "Cocktail in a Box - 6 Feet Apart," a cocktail in a box that supports six local businesses. Support SIX local business and get a buzz? Count us in. For more information and to order, head to www.vinearts.cornervine.com.
GOODS
Bamboo Ballroom ( 814 16 Ave SW)

Look, we're gonna have to change out of our sweats one of these days. Do so in some brand-new threads from Bamboo Ballroom, who are currenlty open Tuesday-Saturday, and are offering free shipping on orders over $150 and contactless curbside pick-up. For full hours and updates, checkout @bambooballroom.ycc on Instagram.

Blackbyrd Myoozik (1126 17 Ave SW)

The world is pretty bleak right now, but music is gonna get us through. Blackbyrd has reopened to the public, with a max three customers in store, and are still offering curbside pickup for any phone or email orders. So email calgary@blackbyrd.ca or call 403-367-7811 to order a lil' music therapy.

EQ3 (100-8180 11 St SE)

All this time at home is making you want to redecorate, isn't it? Well EQ3 is still open online, so head to www.EQ3.com to start spicing up your digs.

Fieldstudy (102-1812 4 St SW)

Stock up on bohemian-minimalist goods at the shop from 11:00am - 3:00pm everyday, or online at www.fieldstudyshop.com, with free shipping on all orders in Canada and US with the code FREESHIP.

gravitypope (1126 17 Ave SW)

gravitypope's brick-and-mortar shops may be closed for the time being, but online is really where it's at. Shop at www.gravitypope.com and get free shipping in North America.

The Grinning Goat (101-323 17 Ave SW)

Just because there's a pandemic, doesn't mean you have to give up vegan and ethically sourced products. The Grinning Goat is open Monday-Saturday, 11:00am - 5:00pm, or you can shop online anytime at www.grinninggoat.ca,

LESS17 (930 17 Ave SW)

Their 17th Ave storefront is closed to the public, but you can still shop online at www.lessoneseven.com, with free shipping in North America. If there was ever a time to treat yourself, IT'S NOW.

Lukes Drug Mart (122 4 St SE / 3407 26 Ave SW)

Lukes' Bridgeland and Killarney locations are still open, and have installed plexi-glass around all the counters to keep them nasty germs at bay. Lukes also has a new app that allows you to pre-order coffee drinks so you don't have to wait in-line at the store! An app that introverts will love long after the pandemic is over.

North American Quality Purveyors (1207 10 Ave SE)

NAQP is back, baby! Open 11:00am - 5:00pm Monday to Friday, you can also still shop online at www.shopnorthamerican.com. Even if you're not ready to leave the sweats behind just yet, you can at least upgrade to newer, nicer, cleaner sweats, and no one does a hoodie like NAQP.

Plant (1327 9 Ave SE)

Nothing adds life to your quarantine digs quite like a new plant. The shop may be closed to the public, but Plant is currently offering curbside pickup Tuesday-Saturday. Head to @plantshopyyc on Instagram for the order form.

Purr (940 17 Ave SW / 1220 Kensington Rd NW / 1227 9 Ave SE)

Feeling down? Purr is here to help with some retail therapy! Purr is fully reopened, and you can still shop from the comfort of your couch at www.purrclothing.ca.

Recess (1323 9 Ave SE)

Now that you're working from home, it's time to up your office game. Head to www.recess.shoplightspeed.com to stock up on notebooks, pens, and all sorts of fun stationary.

SalvEdge Boutique (113 - 1013 17 Ave SW / 1002 Macleod Trail SW)

Time to get your thirft on! SalvEdge Boutique is now Monday to Friday from 12:00pm - 6:00pm and Saturday from 12:00pm - 5:00pm.

Shelf Life Books (1302 4 St SW)

The store is closed to the public, but Shelf Life is currently offering shopping by appointment as well as curbside pick-up and home delivery. Haven't read a book since college? Now is a REALLY GREAT TIME. Visit www.store.shelflifebooks.ca to shop!

Sloth Records (736b 17 Ave SW)

That band you heard and loved at Sled last year? If they have a physical release, Sloth probably has it. And if they don't, they will order it for you because they're angels. Sloth is currently open at limited capacity, Sunday to Thursday from 11:00am - 5:00pm and Friday to Saturday from 11:00am - 7:00pm.

The Source Snowboards and Skateboards (738 11 Ave SW)

You can totally practice your kickflip in the living room. Grab a new board at www.sourceboards.com.

Understudy (1312 1 St SW)

You're going to have to start wearing pants again eventually, and Understudy has some really nice ones. They are currently offering shop by appointment and walk-in Tuesday to Saturday from 11:00am - 4:00pm, and always open online at www.understudyshop.ca.

Velour Clothing Exchange (200 - 1022 17 Ave SW)
SERVICES
Bushido Tattoo (218 17 Ave SE)

Want to get a "I survived the pandemic of 2020" tattoo? Bushido is the place to go, and they are now reopen, with safety measures in place.

Butter Beauty Parlour (2428 4 St SW / 315 8 Ave SW), Hedkandi Salon (1301 8 St SW / 161 - 315 8 Ave SW / 146 13 Ave SW) and Johnny's Barber + Shop (709 11 Ave SW / 545 8 Ave SW (in Henry Singer)

After months of no haircuts, waxes, brow shaping, manicures and beard trimmings, we're all gonna come out on the other side of this looking a MESS. Lucky for us, Butter Beauty Parlour, Hedkandi Salon and Johnny's Barber will be there to help. The shops are now open so head to www.butterbeautyparlour.com to book, and use the code HEDKANDILOVES.SLEDISLAND for 10% off all retail purchases from the online store!

Passage Studios (524 11 Ave SW)

Pandemics are stressful AF. Thankfully, Passage Studios is reopening, with extensive safety measure, as well as still offering online classes. Head to their website or @passage.studios for more info.

Rumble Boxing (720 17 Ave SW)

Wanna come out of this stronger than ever? Rumble Boxing is here for you by offering FREE classes on their IGTV! Head to www.rumbleboxing.com for deets, and their insta, @rumbleboxing, for the best workout of your life.

Swizzlesticks Salon Spa ( 301 - 1211 Kensington Rd NW)

After all this stress, we're gonna need to treat ourselves, and Swizzlesticks Salon Spa is the perfect place to do that. Book your appointment now at www.swizzlesticks.com.

UNDRCARD (349 10 Ave SW)

We don't know about you, but this quarantine has us frustrated and stressed as hell. Work through it with online classes from UNDRCARD, available at www.undrcard.com.

Yoga Santosha (320-1800 4 St SW / 821 14 St NW)

Just because we're stuck in our homes, doesn't mean we can't move our bodies. In fact, it's probably more important now than ever. Lucky for us, Yoga Santosha is offering online classes at www.yogasantosha.ca.