MUSIC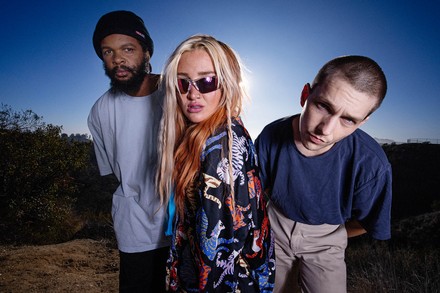 DEHD
(2023 (Live Artists))
Chicago, IL
DEHD does a lot with a little. With just post-punk bass lines, jangly guitar, steady drums and the odd electronic flourish, the band creates a formidable bedrock upon which its dual vocal melodies can soar and swirl together. I.e. on "Bad Love," from last year's excellent album Blue Skies (the band's first for Fat Possum), bassist Emily Kempf and guitarist Jason Balla stack their vocals upon one another until the tension makes it feel like it's all about to come toppling down.
It's the alternation and intertwining of their vocals that lives at the heart of DEHD's sound. Together, they create an androgynous storm replete with characters by Kempf and voyages to the limits of their collective range — all while drummer and occasional vocalist Eric McGrady holds it down. This gives the music a lived-in urgency that alerts the listener that the emotion from their words is real.
Until Blue Skies, DEHD recorded for various boutique indie labels, releasing debut Dehd in 2016 and Water in 2019 before exploding in popularity with 2020's Flower of Devotion. That album came out mid-pandemic and was described as a force of connection, filled with road trip anthems for a time apart. It received a Best New Music designation from Pitchfork and made many year-end best lists.
DEHD's sound has remained true throughout its discography, but the melodic force and focus on minimalism grows ever stronger with each release. Blue Skies is an undeniable future classic, full of cathartic choruses that feel at once ready for the masses and so specifically personal as to tell rich stories. Road-ready after a year of touring behind it, DEHD arrives for the first time in Calgary for a set that is sure to inspire mass singalongs and the collective rapture we've all been missing.