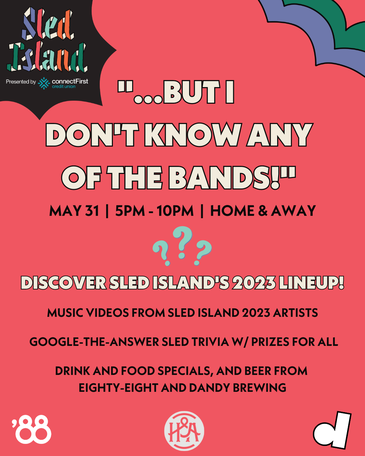 Thank you to everyone who came out to the annual "…But I Don't Know Any of the Bands!" trivia night at Home & Away, and took part in our unique Google-the-answer Sled Island trivia! For anyone who missed it and wants to see what the challenge looked like, check it out! For those who participated and are dying to know the answers, see below!
Congratulations to Jessica Ross for being the big winner of the night and scoring two Discovery Passes to Sled Island 2023! It was a close one that came down to our tiebreaker.
1. We are extremely proud to welcome Bartees Strange to curate Sled Island 2023. List all of his hand-selected picks performing this year! (No part marks!)
Gulfer, Helado Negro, JWords, KAINA, Maassai, Maneka, Pom Pom Squad, Sen Morimoto
2. Besides Bartees Strange, who playing at Sled Island this year has filled the role of guest curator?
John Dwyer (Osees)
3. Which band has someone who previously was a part of the Blue Man Group?
The Body
4. SUMAC is a supergroup that is no stranger to Sled Island, having previously played in 2015. However, they have played Sled with their regular bands as well before! What other bands have the members of SUMAC played at Sled with?
Russian Circles, These Arms Are Snakes, Mamiffer, Old Man Gloom
5. What is the name of the electronic hip-hop duo that was formed by two of the guest curator selections?
HE1R (Maassai + JWords)
Read More >>
Permalink