MUSIC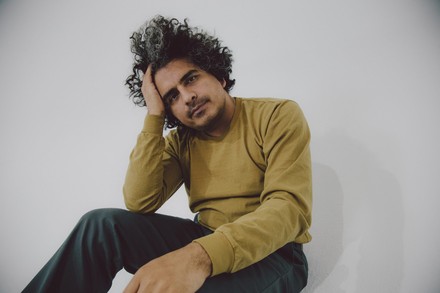 Helado Negro
(2023 (Live Artists))
Brooklyn, NY
If you're not familiar with the man Lido Pimienta called "the most prolific artist ever," we are pleased to introduce you to Roberto Carlos Lange, a.k.a. Helado Negro. The folk-pop-electronic experimentalist has indeed released a lot of music in even more styles but there's a sublime, psychedelic sensibility holding the vast puzzle of music together.
Beginning with Awe Owe, Lange released five albums on Asthmatic Kitty from 2009 to 2016. Each blended folk, electronic music and his distinct approach to experimentalism. Though his core is gentle vocals in both Spanish and English, acoustic guitar, synth and drums, Lange's arsenal includes strings, woodwinds, brass, steel drum and more.
It was in 2019, though, that Lange released what Pitchfork called a "masterpiece:" This Is How You Smile on Rvng. Intl. The 12-track, autobiographical album explores themes of contemporary Latinx life with a focus on familial relationships. It follows Lange's inward-looking narrative carried by acoustic guitar while a Pet Sounds-level menagerie of accompaniment encircles each song.
And on most recent album Far In (4AD), Helado takes a victory lap. Full of elongated, vibe-soaked meditations that drift between buzzing dance tracks and tidal slow-jams. It is particularly synth-forward and is bolstered by an eclectic drum presence that matches each shift in mood.
Along the way, Lange has earned prestigious recognition. Beyond the music press's adoration, he's scored a Joyce Foundation Award and a United States Artists Fellowship in Music. Of the eclectic lineup of Bartees Strange's curator picks, Helado is perhaps the further into his artistic career of the batch, an act at his peak that arrives just in time for this year's festival.