MUSIC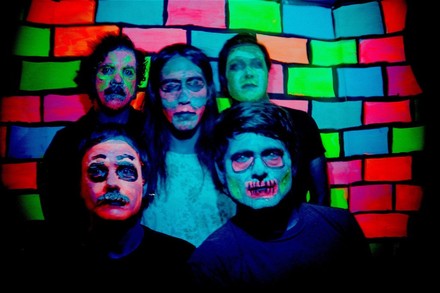 Osees
(2023 (Live Artists))
Los Angeles, CA
The non-stop audio death machine that is Osees has explored the edges of possibility for decades. With a discography in the dozens and a furiously sweat-drenched live show, the band has earned its place as a pillar of the modern underground.
Osees – formerly known as Thee Oh Sees, among other names – is the twisted brainchild of John Dwyer, who served as a guest curator for Sled Island 2013. The project was initially a solo exploration of experimental sounds as Dwyer carved his way through the early '00s California music scene, fronting bands such as Coachwhips and Ziegenbock Kopf. As these groups disbanded, Dwyer began assembling a rotating lineup to help bring the Osees' dream to life.
The freaky folk arrangements of 2007's Sucks Blood warned the world of what was to come. The Master's Bedroom is Worth Spending a Night In was unleashed in 2008, featuring a four-piece Osees exploring the outer edges of garage punk. Follow-up releases Help and Carrion Crawler/The Dream expanded into the dance-y krautrock stratosphere.
After a hiatus and lineup change in 2014, the Osees explored psych, metal, and free jazz on albums such as Orc and Face Stabber. A rigorous touring schedule matched this flurry of releases, building the reputation of the Osees live show. A Foul Form is the group's latest release, a staggering blast of '80s-style hardcore punk.
The Osees 2011 Sled Island performance at Broken City was a legendarily huge party. The band's long-awaited return will be a monstrous lesson on hip-shaking rock.