Start getting excited! The first wave of Sled Island 2019 artists is here!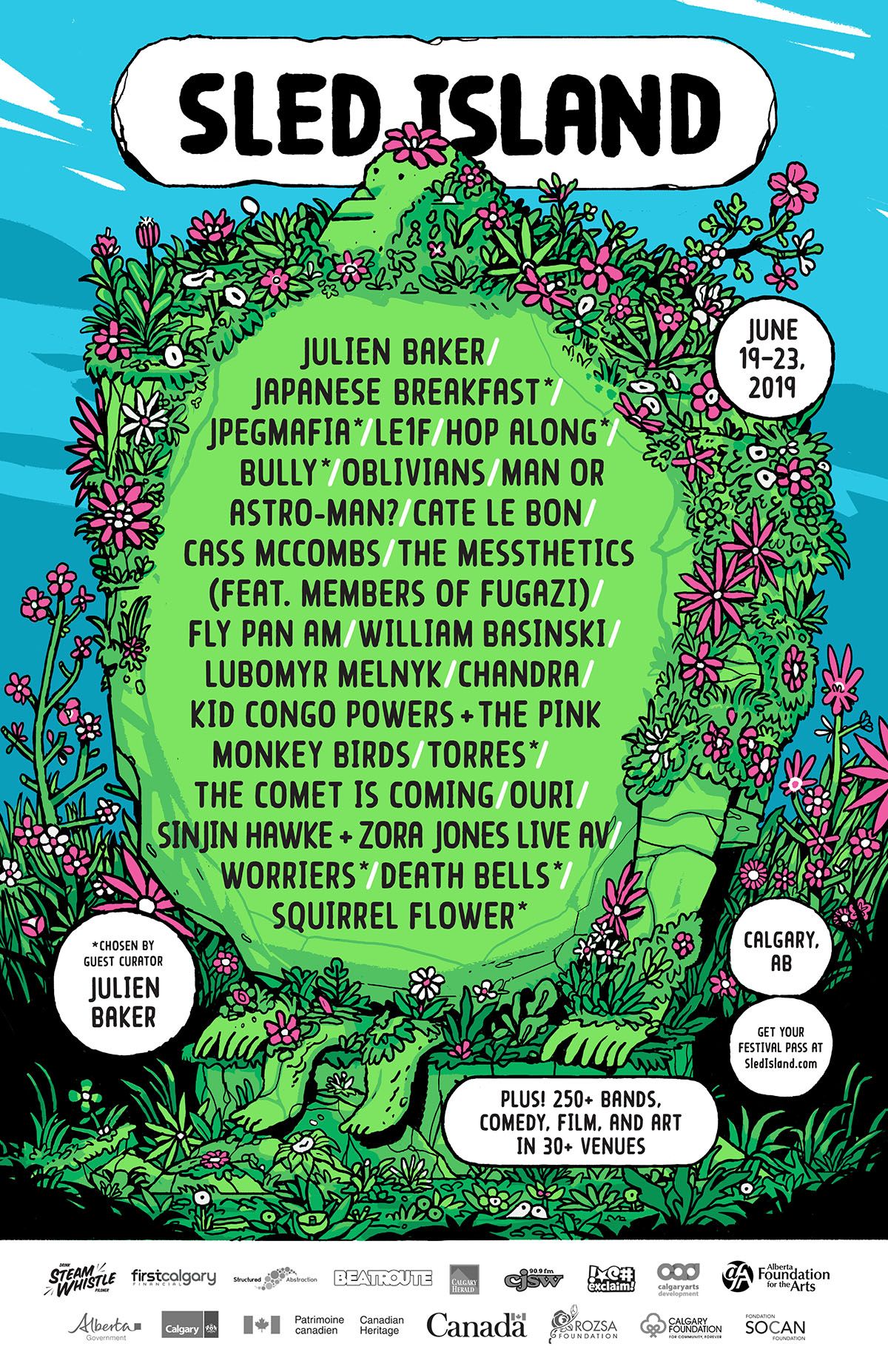 This year, acclaimed indie singer-songwriter and Sled Island guest curator Julien Baker is joined by a diverse gathering of some of today's most exciting artists. This cross-section includes Japanese Breakfast's shimmering space-pop, the politically-charged, experimental noise-rap of JPEGMAFIA and the subversive trap-influenced hip hop of Le1f. The perfectly-penned tunes of raspy alt-rockers Hop Along are paired with the anthemic grunge rock of Bully, and the undeniable free-form brilliance of Cate Le Bon is met with the idiosyncratic folk-rock of Cass McCombs.
In addition to these much buzzed-about artists are bucket list acts who have already left an undeniable mark on music history. The garage-punk godfathers themselves, Oblivians, are flanked by the psychedelic surf rock sounds of Man or Astro-Man? and honest-to-goodness punk rock legend Kid Congo Powers + the Pink Monkey Birds (The Gun Club, The Cramps, Nick Cave and the Bad Seeds). Sled Island is ecstatic to announce that post-Fugazi instrumental trio The Messthetics will join recently reunited Montreal experimental rock outfit Fly Pan Am. Chandra, the post-punk sensation that first fronted a band at the age of 12, returns to wow audiences after three decades away from music.
Read More >>
Permalink
Position: Assistant Volunteer Coordinator
Contract: Type: Internship, 30h/week for 2 months
Start date: April 29, 2019
Reports to: Volunteer Coordinator
Please note, this is an unpaid internship that can count towards school credits.There is a possibility for the position to be funded through the Canada Summer Jobs program. Results for the program will be announced at the end of April. If you meet Canada Summer Jobs eligibility criteria, please mention it in your application.
Sled Island is seeking a highly organized and dedicated individual for the position of Assistant Volunteer Coordinator. The intern will report to and work alongside the Volunteer Coordinator to recruit, schedule, train and manage a group of over 400 volunteers, leading up to and during the 2019 edition of the Sled Island Music & Arts festival (June 19-23).
Read More >>
Permalink
Sled Island is currently hiring for two visual arts internships.
Position: Visual Arts Programming Assistant
Timeframe: March – May (2-6 hrs/week)
Reports to: Visual Arts Curator
This is an unpaid internship, however students who meet SCIP eligibility criteria are eligible for a $1000 bursary: https://www.joinscip.ca/student-eligibility/
The Programming Assistant will work directly with the Visual Art Curator and have a working relationship with artists and community partners. Training specific to the role will be provided.
Duties
Assist with organization of annual Visual Art fundraising event
Liaise with artists and venues
Draw artist and partnership contracts
Qualifications
Strong interest in and knowledge of contemporary art, art history, and Calgary's arts and culture sector
Keen attention to detail
Self-motivated and willing to learn
Strong problem-solving and communication skills
Basic knowledge of power tools and painting, an asset
How to Apply
To apply, please send a cover letter and resume to the attention of Areum Kim, Visual Arts Curator, at art@sledisland.com by February 21, 2019 at 11:59pm MST and indicate Visual Arts Program Assistant Internship in the subject.
Sled Island is an equal opportunity employer. While we thank all applicants for their interest, only those selected for interviews will be contacted.
Read More >>
Permalink