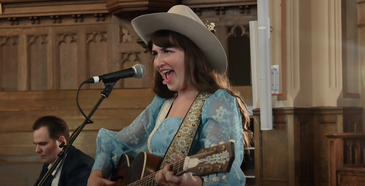 Today we're proud to announce a new video series resulting from our Postcards From Sled Island initiative. The series launches today and will continue to run into March of 2022, and is free to watch now at Sled Island's new YouTube channel.

This past June we launched Postcards From Sled Island as a way to stay in touch with the music community in the midst of a pandemic, commissioning "video care packages" from many of our favourite local and international artists. We're now very excited to share the full versions of all the videos we received, including 11 live sets, music videos, and short films that previously premiered in short form at Camp Sled Island in August.

Aimed at showcasing both the wealth of talent in Calgary's music & arts scene, as well as the broader artistic community that has rallied around the festival over the years, these creative, professionally shot and recorded live sets, music videos, and intimate short films are a far cry from the Instagram live sets that have become ubiquitous during the pandemic.
Read More >>
Permalink