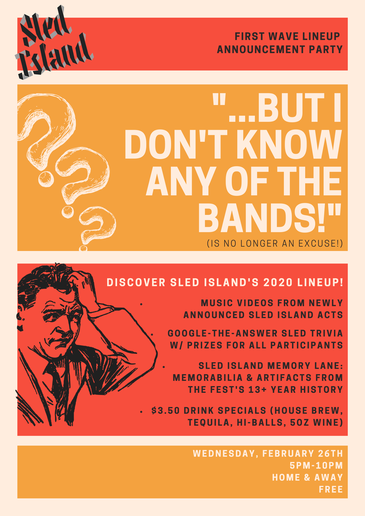 Thank you to everyone who came out to our first wave lineup announcement party, and to those who took part in our unqiue Sled Island Google-the-answer trivia! For anyone who missed it and wants to see what the challenge looked like, check it out! For those who participated and are dying to know the answers, see below!
Congratulations to Nathan Ross and Jessica Pickering for being the big winners of the night and scoring two Discovery Passes to Sled Island 2020!

PART 1: SLED ISLAND 2020 INITIAL LINEUP

1. "I'm too old for Sled Island" no longer applies. Which now famous new-wave and post-punk band opened for the legendary Sun Ra all the way back in 1975 in Cleveland?
DEVO
2. Transcendental metal band OM released a 35 minute Live In Jerusalem album, which represented just a fraction of the set they played that night. How long did the band actually perform for?
OVER 5 HOURS
3. Which newly announced artists has had a song featured in the critically acclaimed HBO series Insecure?
JAMIRE WILLIAMS, CREDITED AS "ERIMAJ"
A three-parter for you! Austin's The Black Angels may be the torch-bearers of neo-psychedlia, but they never forget their roots. Looking into their past...

4. The Black Angels got their name from which influential 1960s band?
THE VELVET UNDERGROUND
5. In 2008, The Black Angels performed as the backing band for which artist, arguably responsible with his previous band for the creation of psychedelic rock music?
ROKY ERICKSON (THE 13TH FLOOR ELEVATORS)
Read More >>
Permalink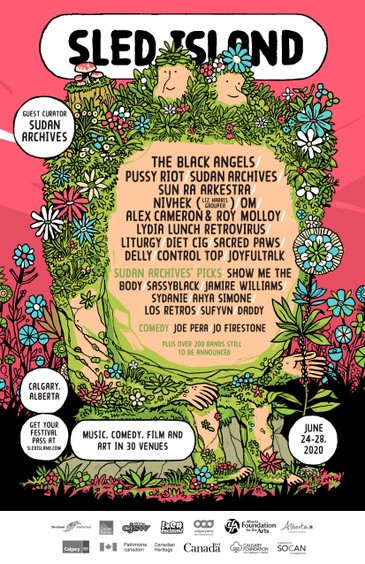 Prepare yourself! The first wave of Sled Island 2020 artists is here!
The incredibly diverse sounds of this year's lineup include the torch-bearing neo-psychedelia of The Black Angels, the radical political feminist protest music of Russia's Pussy Riot, the genre-bursting, boundary-pushing experimental R&B of Sled Island's guest curator Sudan Archives, the out-of-this-world free jazz of the legendary Sun Ra Arkestra, and the beautiful ambient soundscapes of Nivhek, the new project from Grouper's Liz Harris. On top of that, we have the spiritual drone metal of OM, the sultry soft rock croon of Australia's Alex Cameron & Roy Molloy, the undeniably progressive black metal of Liturgy, and the No Wave pioneering, fiercely poetic punk rock of Lydia Lunch RETROVIRUS.
In addition to these influential performers, we are also joined by some of today's most exciting artists, including the infectious and infinitely hummable indie-punk band Diet Cig, Scottish purveyors of perfect pop ear worms Sacred Paws, featuring members of Shopping and Golden Grrls, incredibly inventive hip-hop artist Delly, the intense and brash post-punk trio Control Top and the boundary-pushing electronica of JOYFULTALK, who will be accompanied by a live string section for a very special performance celebrating the release of their new album A Separation of Being.
Each year, Sled Island's guest curator helps to shape the festival's programming through their own curated selections. This year, Sudan Archives has handpicked an incredible collection of talent, including the banjo-wielding experimental hardcore trio Show Me The Body, the soulful R&B artist SassyBlack (formerly of THEESatisfaction, now defunct), free-form jazz drumming extrordinaire Jamire Williams, who has collaborated with everyone from Solange to Herbie Hancock, Toronto-based electronic infused hip-hop artist Sydanie, transgressive avant-garde harpist/vocalist Ahya Simone, 19-year-old SoCal soft rock sensation Los Retros, Sudanese electronic mastermind Sufyvn, and the mind-bending experimental electro-pop of Daddy, formerly Cat 500.
On top of the outstanding musical acts revealed today, we're also very excited to announce two hysterical comedy headliners, Joe Pera (Adult Swim's Joe Pera Talks To You) and Jo Firestone (Shrill, The Tonight Show Starring Jimmy Fallon). Sled Island's complete 2020 lineup, including additional headliners, over 200 more bands as well as comedy, film, visual art, special events and conference programming will be announced in the coming months. For now, start discovering this year's lineup with our Sled Island 2020 Spotify Playlist.
Sled Island passes grant access to all Sled Island 2020 shows (subject to capacity) and are currently available at SledIsland.com, and keep in mind that today is your last chance to save 15% on Sled Island 2020 passes! Prices jump at midnight MST tonight! A limited number of single tickets to select Sled Island 2020 shows will go on sale this Friday, February 28 at noon MST at SledIsland.com.
Don't forget that tonight we are celebrating our first wave lineup announcement at Home & Away from 5pm-10pm! The night will include music videos from newly announced Sled Island artists, Google-the-answer trivia, awesome prizes (including two Discovery Passes), cheap drinks and much, much more! Check out our event page!
A huge shout out to Josh Holinaty for this year's awesome poster art!
Permalink