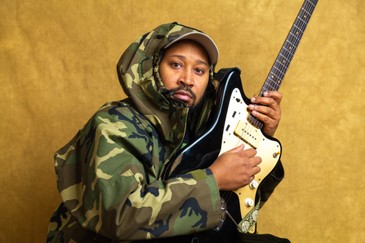 We're thrilled to announce that genre-defying indie/alternative artist Bartees Strange will be joining us as guest curator for Sled Island 2023, running June 21 – 25!
Bartees' wide range of musical influences, unique style, and dedication to fostering more diverse audiences and music scenes made him the perfect candidate to take on this role, and we could not be more excited to be working with him on next year's festival!
Along with guest curator duties, Bartees Strange will perform at the #1 Royal Canadian Legion (116 7th Ave. SE) on Wednesday, June 21, 2023. Sled Island passes grant access to this show (subject to capacity).
Each year, Sled Island's guest curator puts their stamp on the festival through special programming choices and their presence at the event. Bartees Strange's curatorial selections, to be announced in the coming months, will join over 200 additional bands, comedy, film, and visual art chosen by the festival in multiple venues across Calgary.
Passes go on sale this Friday, December 9 at noon MST at a special early bird rate of 20% off, and will be available at SledIsland.com, and Lukes Drug Mart (112 4th St. NE).

Unfamiliar with Bartees Strange? Check out his latest LP Farm to Table – recently ranked #16 on Rolling Stones' 100 Best Albums of 2022 – and be sure to give him a follow on Instagram to get a glimpse at the last leg of his 2022 tour!
Thank you to our sponsors and funders at Lukes Drug Mart, Eighty-Eight Brewing, Dandy Brewing Company, Calgary Arts Development, Alberta Foundation for the Arts, Structured Abstraction, Venture for Canada, and the Government of Canada.
Read More >>
Permalink