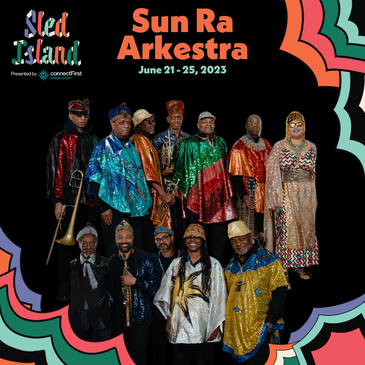 Today we're very excited to announce that cosmic free jazz legends Sun Ra Arkestra will be joining us for Sled Island 2023!

The pioneering afro-futurist big band will perform at Central United Church on Thursday, June 22!
Tickets will go on sale this Friday, March 17 at noon MDT. Sled Island passes grant entry, subject to capacity.

For passes, visit SledIsland.com/Passes.

About Sun Ra Arkestra

There aren't many musical groups that are still going strong 30 years after their leader's death, but then again, there aren't any groups in the universe like the Sun Ra Arkestra. Since the passing of Sun Ra in 1993, the pioneering afro-futurist, avant-garde big band has been spreading the immensely influential music and philosophy of their late bandleader, Le Sony'r Ra.

With an ever-flexible lineup and a gargantuan catalog of music spanning from cosmic jazz to disco to free jazz to bop, Sun Ra's influence can be seen in every corner of contemporary music. From legends like John Coltrane to indie icons Yo La Tengo and punk forebears MC5, Sun Ra's influence is so far-reaching that it's hard to imagine modern music being the same without him.
Read More >>
Permalink