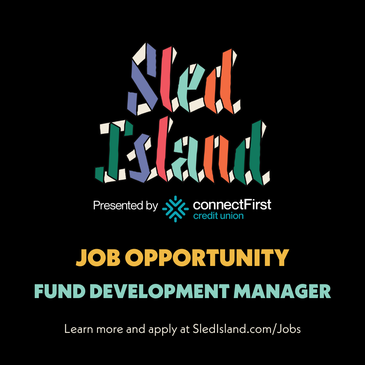 Sled Island is hiring a full-time, permanent Fund Development Manager to lead the organization's sponsorship and donation activities.
Who We Are
Sled Island is a charitable organization with the mandate of fostering understanding and appreciation of music & arts underrepresented in mainstream media, and to nurture the local artistic community through performance and educational opportunities. Our main activity is the presentation of the annual Sled Island Music & Arts Festival, a pillar of Calgary's cultural calendar taking place each June, that brings together thousands of artists, volunteers, partners, and attendees from across the country and beyond. We also present year-round artistic and educational programming through numerous community partnerships, aimed at increasing awareness of Sled Island on an ongoing basis.
Sled Island is a community-centric organization driven by values of curiosity and diversity, on and off the stage, and committed to principles of equity, anti-racism, and anti-oppression. We recognize the systemic lack of representation of equity-deserving communities in the current non-profit art space, and strongly encourage members of Indigenous, Black, and racialized communities; people with disabilities; people identifying as LGBTQIA2S+; and women to apply.
Would you require any accommodation during the application or hiring process, please contact us at hr@sledisland.com so we may meet your needs.
Who You Are and What You Will Do
Working closely with and reporting to the Executive Director, the Fund Development Manager will help craft and oversee the implementation of innovative sponsorship development strategies and creative fundraising events & campaigns, as well as create systems and processes to build Sled Island's fundraising capacity. This is a unique opportunity to leverage Sled Island's charitable status to create a lasting impact, both within the organization and in the community.
To fill this role, we're looking for someone passionate about advancing our mission and who can articulate, and advocate for, the importance and impact of music & arts. Our ideal candidate is a people person who's not afraid to pick up the phone and attend networking events, and who can seamlessly navigate between the corporate and arts/non-profit world. A self-starter who likes to think outside the box and is motivated by reaching targets, in addition to meeting the qualification requirements listed further down.
Read More >>
Permalink