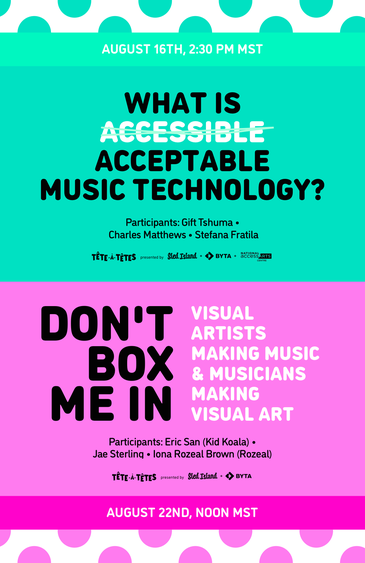 Today we're proud to announce two new Tête-à-Têtes sessions in partnership with Byta!

The series of online conversations will continue August 16 at 2:30pm MST with What Is A̵c̵c̵e̵s̵s̵i̵b̵l̵e̵ Acceptable Music Technology? Presented in partnership with National accessArts Centre, this exciting new session will join Stefana Fratila of CRIP RAVE Collective, and Gift Tshuma & Charles Matthews of Blurring the Boundaries as they offer insights and perspectives on accessible music technology, musical environments, and music culture.
REGISTER HERE

Then, on August 22 at noon MST we'll present Don't Box Me In: Visual Artists Making Music and Musicians Making Visual Art. Hosted by Byta's Marc Brown, this session will see multidisciplinary artists Eric San (Kid Koala), Iona Rozeal Brown (Rozeal) and Jae Sterling wax poetic about creativity and artistic process for both music and visual art alike; how it differs, how it's similar, and how it all intermingles to create something extraordinary. Does the creative vision dictate the medium they work in, or does the medium inspire that vision? Or is there no reason to answer those questions in the first place?
Read More >>
Permalink