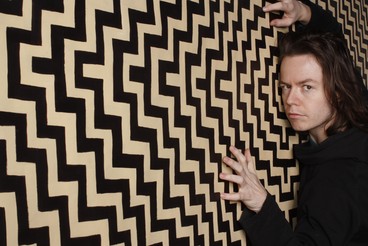 Art at Sled Island begins tonight and we couldn't be more excited about it! In collaboration with the Alberta College of Art + Design, Sled Island offers a plethora of amazing venue-specific original art works, daily exhibit openings at independent galleries around the city, spectacular stage installations and more!

Starting tonight is the C1RCA x Sled Island Poster Show (6-9pm) at Sloth Records which is your chance to own a limited edition, three-colour, hand silk-screened poster by local designers and illustrators, Rick Silva and Justin Waddell curated the speed show Exterior Scrolls - a full internet cafe takeover - running right across the street in Cyberspace Cafe. Everyone at Sled Island is humbled to present Christopher J. J. Reimer, a collection of photographs and ambient recordings by a dearly missed musical stalwart presented at the Museum of Contemporary Art Calgary on Wednesday, June 20th. Proceeds from this exhibition will benefit a memorial fund in Chris' name.

One of our favourite aspects of Art at Sled Island is the venue-specific work on display throughout the festival! CLOUD, a hyper-2D stage installation will be presented for audiences in the Republik through out the week. Venue installations include Lost in the Super Market at the Simmons Building in the East Village, Television STATIC in Theatre Junction GRAND, Daddy's Gurrl 2.0 at Twisted Element on Thursday only, Lying at the No. 1 Legion and Young, Rich and Tasteless at the Fluevog Gallery.

Join us for the Pineal Hand - Jack Bride Artist Talk (7pm) on Thursday at Untitled Art Society. Don't miss the Young, Rich and Tasteless closing party on Friday at the Fluevog Party with live performances by Victories and Love Cuts. Sled Island Festival Discovery and Discovery Plus passes gain access to all Art at Sled Island exhibitions and events. Exhibitions at 809, Cyberspace Cafe, Fluevog Peanut Gallery, Haight Gallery, MOCA Calgary, Skew Gallery, and Untitled Arts Society are free.
Permalink