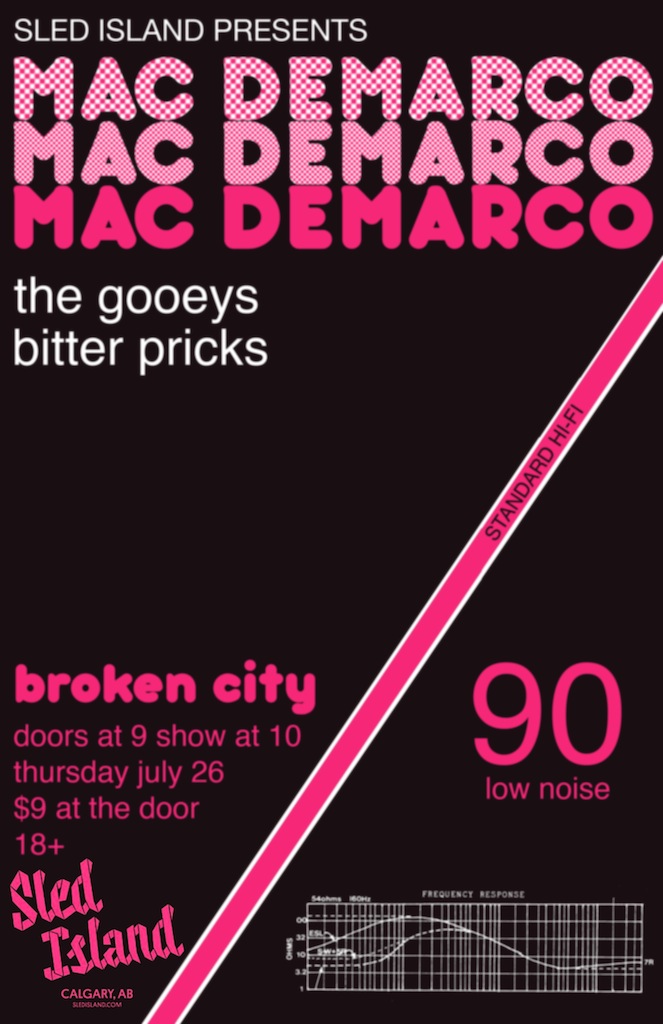 Sled Island is excited to present Mac DeMarco along with guests on Thursday, July 26th at Broken City. Mac DeMarco, formerly known as Makeout Videotape has put out several releases over the last couple years. He grew up in Edmonton, moved to Vancouver and has since relocated to Montreal. Late last year, Mac got tonsillitis and wrote "a bunch of funny elvis songs" that became the initial Rock And Roll Night Club EP and got him signed to Brooklyn-based label, Captured Tracks. Mac is a loveable dude with a perverted sense of humour. He played a show in Vancouver for the Emily Carr grads and ended up hanging upside down from the rafters with his pants above his knees and his own finger up his butt. A pretty typical thing for Mac DeMarco to do in the company of his friends and increasingly more common on stage in front of strangers.
Read more about the silly nature of Mac DeMarco in the most recent issue of FFWD Weekly here.
Watch his latest music video for "Rock and Roll Night Club" directed by Jason Harvey here.
Don't miss Mac DeMarco along with The Gooeys and The Bitter Pricks at Broken City on Thursday, July 26th. The show is happening after the first night at the Calgary Folk Music Festival. Doors at 9pm, Show at 10pm. $9 tickets available at the door.
RSVP here.
Permalink