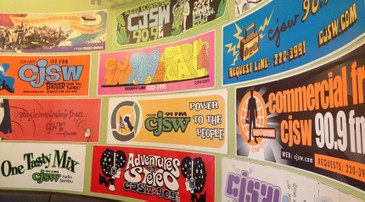 Our good friends at CJSW 90.9 fm have been hustling their hearts out for their annual funding drive and there's only two days left to pledge. As a largely volunteer-run campus radio station, any and every amount you pledge is helpful for everything from buying equipment - much-needed headphones and microphones - to helping the station to begin offering podcasts of their incredible and incredibly diverse programming.

At Sled Island, we believe that CJSW is one of the greatest campus radio stations in the world and absolutely instrumental in fostering a passionate, knowledgeable music audience; it's that audience that propels the festival each year, providing local, national and international artists some of the best shows of their lives. As well, the station offers up a staggering amount of their airwaves to local artists, from playing their new albums to offering in-studio live session recording time to bands new and old alike. Our festival has benefited immensely from the CJSW training grounds, with much of the festival's staff and board of directors having direct ties to the station. As well, every year, CJSW helps us to produce the Sled Island podcast series which are important tools for our increasingly immense schedule to be unpacked.

All that to say, we can't say enough good things about CJSW 90.9 fm. We cherish it and hope you do too. If you pledge by phone (403-220-5000) or online, you'll not only have the satisfaction of knowing you helped to ensure CJSW survives and thrive, you'll also be eligible for a wide range of incentives, from t-shirts and sweatshirts to mix CDs of in-studio sessions recorded at the station.

Pledge now, won't you?
Permalink