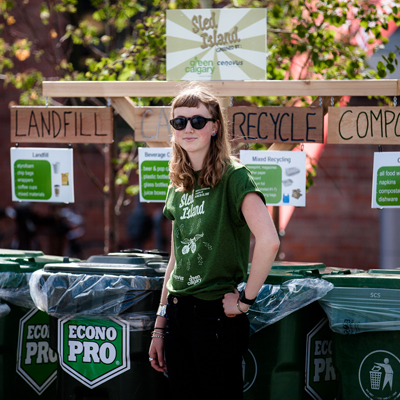 Sled Island is reaching out to our talented community of artists for help in designing this years Green Island Volunteer T-shirts. Here's your chance to show us your skills! If your design is chosen, you will receive a Sled Island Discovery Pass along with some other exclusive swag (not to mention having your work proudly worn by Sled's hypest volunteer crew).

As you may already know, the Green Island Crew - with the help of Cenovus Energy - is stoked on lessening the environmental impact of Sled Island, riding bikes, and rockin' out. You'll be a winner if you can incorporate all these things into a rad design that can be easily screen printed.


Rules
This competition is open to all Sled Island fans;
You can enter as many designs as you like;
Your design must be created by you; by submitting an entry you confirm that it is your own work;
Submit your masterpiece by sending it as an attachment to green@sledisland.com;
By submitting a design, you agree to give Sled Island rights to publish your work on our website and use your design on the Green Island volunteer T-shirts;
All entries must be submitted by May 13th, 2013. The winner will be announced that Friday May 17, 2013;
Your design must be 300dpi, RGB, 8 bit mode and be 17.5" x 19".

Other notes:
The Shirts will also incorporate the Sled Island logo as well as key Green Island sponsors.
The back of the T-shirt is reserved for the word VOLUNTEER.
The T-shirt will be Green
Less is more. If you can create a deadly design in ONE color, you will already be ahead of the competition!

We look forward to see what awesome creations you can come up with! Get your design on!
Permalink