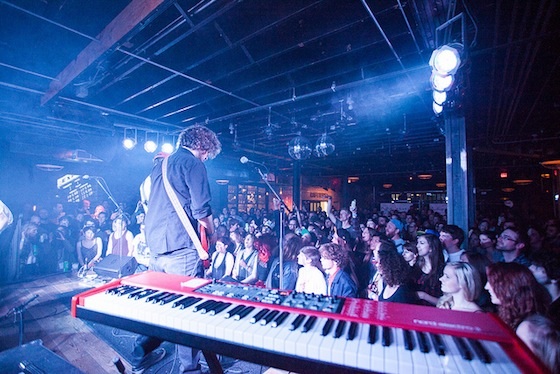 It's the eve of Sled Island and we're getting this party started early!

Join us tonight for the Nudie Presents Sled Island Kick-Off Show featuring a stacked lineup of locals including Teledrome, Gold, Samantha Savage Smith and HighKicks plus returning festival faves Chains of Love and Wild Rose Soul Club DJs to cap off the night. Don't forget to post your best party photos during the show and tag @nudiejeans and #sledxnudie for you chance to win 1 of 5 pairs of Nudie Jeans along with a Sled Island 2013 shirt of your choice!

Start your night right at Milk Tiger Lounge for the 7th annual Sled Island Poster Show and get a first look at the 13 hand silk-screened posters each designed by a local artist for a specific artist and/or film at Sled Island 2013. Speaking of films, we've got a bunch of great ones lined up starting with Apocalypse: A Bill Callahan Tour Film following the pre-screening patio party at Broken City and Museum Hours screening at the Glenbow Museum.

Check the online schedule to get up-to-date set times and don't forget to use our Mobile Version for access on the go.

Keep up on and participate in all the Sled Island action! Follow us on Facebook, @sledisland on Twitter and Instagram and now on Vine! Connect with the others around the fest using #sledisland to share what's going on.
Still not sure what to check out tonight? Here's a list of not-to-be missed shows!

Bill Callahan fan-flick:Apocalypse: A Bill Callahan Tour Film @ Broken City
Locally-designed art: Sled Island Poster Show @ Milk Tiger Lounge
Opening night excitement: Sled Island Kick-Off Party @ Commonwealth
Exploratory art narrative: Museum Hours @ Glenbow Museum - ConocoPhillips Theatre
Get your pass now! A festival pass is your best bet to get the full festival experience. Festival passes are available online or at the pass pickup. Festival pass pickup is open today from 10am to 6pm and during the festival from June 19th - 22nd from 10am - 10pm at the historic Fairmont Palliser (133 9th Ave SW) in downtown Calgary. Visit the shop for more information.
Permalink