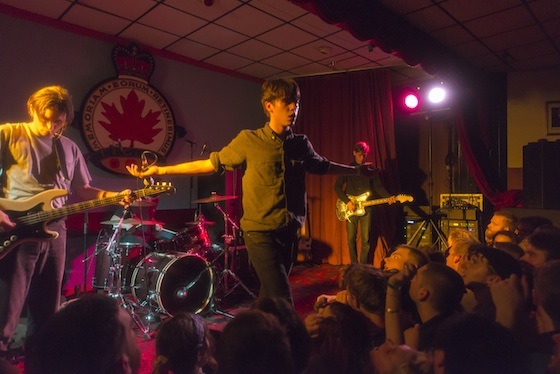 It was an incredible first night to Sled Island 2013! Colin Stetson blew minds at a packed Commonwealth, Swans crushed their epic two hour set, Unknown Mortal Orchestra put on a clinic for all those at Broken City, The Gaslamp Killer had everyone bouncing off the walls and Ice Age delivered a powerful cap to a flawless night at the No. 1 Legion. All that and we're just getting this party started!
It's back! The East Village Block Party is going down today from 4-10pm at the East Village's Riverwalk Plaza. That's six straight-hours of the best electronic dance music from likes of Crimson, Kingdom & Kelela, Drop The Lime and more, an outdoor beer garden, a special edition of the Market Collective plus YYC Food Trucks. Let's collectively will the rain away with dancing and drinking!

We've also got a jam-packed night of club shows including a couple of sure-to-be legendary performances by The Jon Spencer Blues Explosion at the No. 1 Legion and Superchunk at Republik. Don't miss National Music Centre residency act Jerusalem in My Heart perform their unique blend of an audio-visual experience. We've just announced heavily-hyped The Night Marchers featuring 3/4 members of Hot Snakes are replacing Mac DeMarco (had to cancel due to personal emergency) to headline at Golden Age Club for the venue's debut. Comedy starts with two shows, one at the Fairmont Palliser Crystal Ballroom and the other at Wine-Ohs. All that plus SUUNS at Palomino, White Lung at Broken City and much more. As always there's tons of great stuff to discover during the festival. Look out for Ben Caplan at Ironwood, local sensation Mark Mills at the East Village Block Party, feel-good punks The Courtneys at Tubby Dog followed by a screening of Quintron and Miss Pussycat's The Mystery in Old Bathbath.

Looking for something more education? Come to London Calling, it's the first of our panel series, at Broken City. Also, make sure to stop by MOCA for the opening of Spaces, featuring artwork of Bryce Evans, the winner of our Esty Contest.

Get a look at the online schedule for up-to-date set times and don't forget to use our Mobile Version for access on the go.

Keep up on and participate in all the Sled Island action! Follow us on Facebook, @sledisland on Twitter and Instagram and now on Vine! Connect with the others around the fest using #sledisland to share what's going on.
Still not sure what to check out tonight? Here's a list of not-to-be missed shows!

Blistering synth-wave psych: Suuns w/ Guests @ The Palomino
Emerging art spotlight: ETSY Presents Spaces @ MOCA
Doomy stoner rock: Torche w/ Guests @ Dickens
All-ages friendly hip-hop: Dragon Fli Empire w/ Guests @ The New Black
Outsider puppet film: The Mystery in Old Bathbath @ Tubby Dog
Mystical indie rock: The Besnard Lakes w/ Guests @ Commonwealth
Get your pass now! A festival pass is your best bet to get the full festival experience. Festival passes are available online or at the pass pickup. Festival pass pickup is open daily until June 22nd from 10am - 10pm at the historic Fairmont Palliser (133 9th Ave SW) in downtown Calgary. Visit the shop for more information.
Permalink