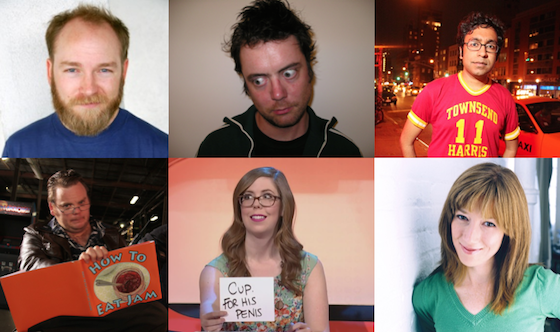 Sled Island is proud to announce the 2014 edition of its fan favourite and hot ticket comedy program, which is sure to be a bigger favourite and hotter ticket than ever!

This year, we're welcoming the voice of Comedy Central, Kyle Kinane, the mastermind behind both the Kroll Show and the world's greatest ever Red Hot Chili Peppers-based hoax, Jon Daly, plus Hari Kondabolu, writer for Totally Biased with W. Kamau Bell, who was hand-picked by Sled Island Guest Curator Kathleen Hanna. But that's not all! Also joining the line up we have the star of Rollertown and the annual "Pats 24 Hours" comedy marathon, Pat Thornton, Laugh Sabbath stalwart, Kathleen Phillips, and introducing hometown weirdo and Comedy Network contest winner, Amanda Brooke Perrin!

To top it off, thanks to our generous partner One Yellow Rabbit we have the pleasure to add the beautiful Big Secret Theatre to our comedy venues. The Big Secret Theatre will also host two presentations of Radioheaded 2: A Listening Party to Watch during the festival, a creation of Denise Clarke mixing dance, theatre and music, based on 2007 Radiohead album In Rainbows.
More comedy details including additional acts, ticketing info and schedule to follow over in the coming weeks!
Permalink