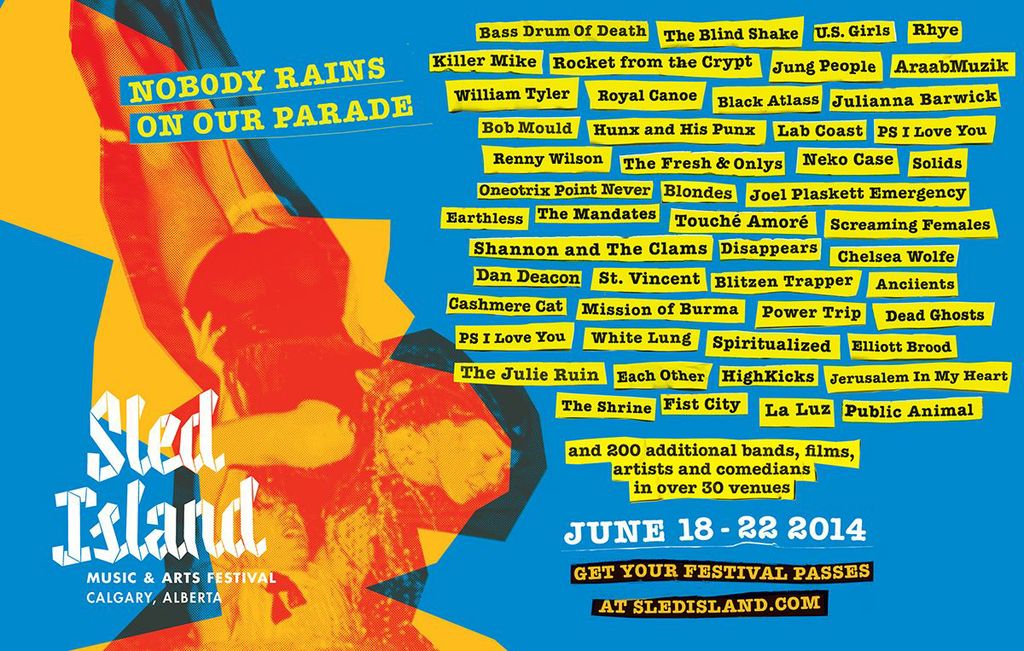 Sled Island is thrilled to announce the full lineup for the 8th annual festival edition featuring over 250 bands, films, artists and comedians spread across 30+ venues concentrated in the downtown core and surrounding areas of Calgary, Alberta from June 18-22, 2014. Check out the incredibly diverse lineup for Sled Island here.
Recent additions to the lineup include the electro-party sensation of Dan Deacon, American producer, AraabMuzik, Brooklyn-based experimental pioneer, Oneohtrix Point Never, incredibly fun Norwegian producer, Cashmere Cat, lush house sounds of Blondes, a special edition of Punk Rock Fancy hosted by DJ Bob Mould, Constantines front-man Bry Webb's solo endeavour and festival fave Ian Blurton's latest, Public Animal.
Also announced are some of Calgary's finest, including the timeless power pop of The Mandates, hooky, guitar-laden popsmiths Lab Coast, the sheer ambition of 36?, the frighteningly catchy synthpunk of Teledrome and the audio-visual experience that is Holgans.
We've also added a variety of interesting acts from across Canada such as Crosss, woolworm, Jon McKiel, Open Relationship, Johnny de Courcy, Betrayers, Freak Heat Waves, Soupcans, xxx CLVR, Ghibli, Nervous Talk, Fountain and Maica Mia.
These artists join previously announced musical acts including Spiritualized, Neko Case, Rocket from The Crypt, St. Vincent, Joel Plaskett Emergency, Rhye, Killer Mike, The Julie Ruin, Mission of Burma, Touché Amoré, Earthless, Bob Mould, Chelsea Wolfe, Blitzen Trapper, The Fresh & Onlys, Power Trip, Jung People, Disappears, White Lung, Shannon and the Clams, Bass Drum of Death, U.S. Girls, Elliott Brood, Solids, PS I Love You, Royal Canoe, Jerusalem In My Heart, The Shrine, Each Other, The Blind Shake, Black Atlass, William Tyler, Renny Wilson, La Luz, Fiver, Anciients and Dead Ghosts.
In addition, guest curator and Riot Grrl co-founder Kathleen Hanna's personal picks include Screaming Females, Hunx and His Punx, Younger Lovers, Mindtroll, and Roman Polanski's Baby. Hanna will be performing with The Julie Ruin and the festival will also feature a screening of the documentary based on her life, The Punk Singer, with a special Q&A with Hanna.
This year's hot ticket comedy program features Kyle Kinane, Jon Daly, Hari Konabolu, Pat Thronton, Kathleen Phillips and Amanda Brooke Perrin. Stay tuned for more details to come in the following weeks.
Sled Island's film program is back for its 8th year and is built around all of your favourite things: record shops, synthesizers, punk singers and teenagers! Check out Sled Island 2014's film lineup here.
Stay tuned for the visual arts, special events and full schedule announcements coming in the next month.
Click here to view the Sled Island trailer.
Festival passes, offering access to every event at the festival subject to capacity, are now on sale for $199 (Discovery Pass) and $349 (Discovery Plus Pass) on our website. All-Ages Passes, giving those under the age of 18 access to the festival's all-ages programming, are also on sale for $50.
A limited number of individual tickets for select shows are now available. Additional tickets for select shows go on sale May 6th on our website and Ticketfly.
Permalink