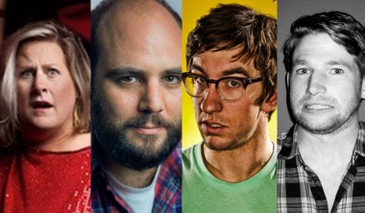 No joke—Sled Island is delighted to announce our featured comedy performers for the 2015 festival!
The New York Times has called our headliner Bridget Everett "an unbridled performer who makes Bette Midler seem like Julie Andrews." Supporting Bridget Everett is Canada's Best Male Comedian of 2014 Chris Locke, Picnicface alum and Mr. D star Mark Little, along with Calgary-born, American Pie Presents: The Naked Mile star Will Weldon (he played High School Student #5)! Not only will they be featured over two nights at the Sled Island Comedy Amphitheatre, but Chris Locke will also be hosting and recording his mega-hit podcast Utopia to Me? for Sled Island attendees.
Tickets will be available soon, but the best way to experience our comedy lineup in all its glory is to buy a festival pass!
Hit refresh at SledIsland.com in the next month for our full comedy lineup, plus film, visual art and even more music to come.
Can't wait until June? Join us at Local 510 (510 17th Ave. SW) tonight (Tuesday, April 14) at 7:30pm for Sled Island's final pre-festival comedy showcase!
Permalink