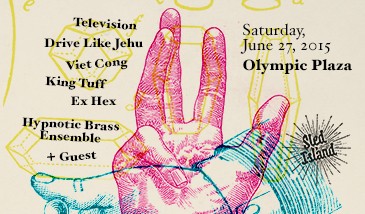 Sled Island is excited to reveal the lineup for our 2015 Olympic Plaza stage!
This centrepiece of Sled Island's programming will feature post-punk legends Television, the recently-reunited Drive Like Jehu, Calgary's own Viet Cong, neo-garage maestro King Tuff, Mary Timony of Helium and Wild Flag's Ex Hex, bad boys of jazz Hypnotic Brass Ensemble and more on Saturday, June 27 in downtown Calgary's Olympic Plaza (228 8th Ave. SE).
Best of all, the event is all-ages, free for kids under 12 and fully licensed! Expect an outdoor festival experience like no other.
Tickets are $50 online or $55 at the gate, but remember that festival passes gain entry (and get you access to all access to all Sled Island events, including 250+ bands, film, visual art and comedy)!
Permalink