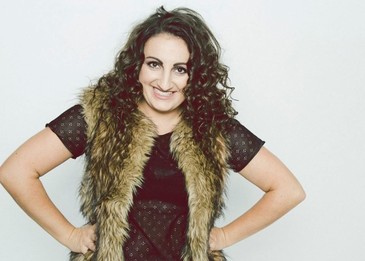 From the home office in Grand Rapids, Michigan, we're proud to announce the Sled Island 2016 comedy lineup!
We can't wait to welcome Canada's Best Female Standup and Andy Kindler's The Alternative Show vet Steph Tolev (pictured), cult favourite Jeremy Carter (who you may know as Shunt McGuppin from the legendary Superego podcast, or from appearances on Comedy Bang Bang, the Thrilling Adventure Hour and the Andy Daly Podcast Pilot Project), as well as category-defying Halifax comedian and Picnicface alum Cheryl Hann.
Also joining us this June is member of the legendary Laugh Sabbath comedy collective and co-host of The Abernathy Zone podcast James Hartnett, plus best friends, roommates and very funny stand-ups Natalie Norman and Jess Beaulieu, co-hosts of the acclaimed Crimson Wave podcast (more on this below).
Rounding out this year's lineup are Edmonton musical comedy duo and trailblazers of "Laughcore" Success 5000 (trust us—they're a real treat), fellow 780-area stand-up superstar Emily Burden, as well as piping hot Calgary up-and-comer Kaheer Fazel. Local comedy scene legend Alan Cho is our very funny host!
All of these acts will be featured over two nights (June 24 and 25) at the Theatre Junction GRAND Studio.
We're also thrilled to host a live taping of the Crimson Wave podcast on June 25 at Good Luck Bar! This hilarious podcast tackles hot-button issues like gender, politics, Indian food and, yes, putting tampons in wrong. Hosts Natalie Norman and Jess Beaulieu have performed at JFL42 and Toronto's famous Comedy Bar, and now they're bringing their show on the road for your Sled Island 2016 pod-pleasure!
Last but not least, we're very happy to team up with Calgary's Late Night at the Plaza on June 22 at the Plaza Theatre for a special Sled Island edition of their energizing and super-funny variety show. Imagine your favourite late night talk show, but with more cursing, and you have this exciting gem of Calgary comedy.
Learn more and check out YouTube clips from almost all of these acts (get it together, Kaheer!) by clicking on their names above.
Sled Island passes grant access to these and all other Sled Island shows (subject to capacity), and are currently available at SledIsland.com, Sloth Records (736B 17th Ave. SW) and Lukes Drug Mart (112 4th St. NE). Single tickets for shows at Theatre Junction GRAND will go on sale via SledIsland.com this Friday, April 1 at 10am MST. Single tickets for the Crimson Wave podcast taping and Late Night at the Plaza show will be available at the door only.
Get ready for our 2016 film lineup announcement next Tuesday, April 5 at 10am MST, plus visual art and much more music in the coming weeks!
Permalink