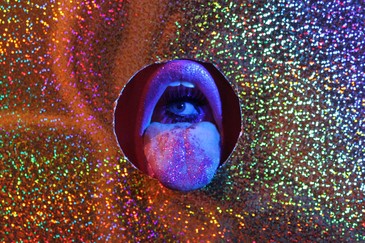 We're excited to announce the lineup of visual art set to animate the spaces and non-spaces of Sled Island 2016!
Edmonton-based artist Jessie Beier presents The Beginning of the Middle of the End, a multi-channel film installation that combines and amplifies affective experiences of anxiety through the assemblage of moments of cinematic tension scavenged from film and television.
Ashley Bedet's a monolith and an obelisk walk into a room presents a sculptural installation that provides space for both literal and metaphorical reflection.
Nine Kennedy's GLORY, WHOLE (pictured) stages an architectural intervention that subverts the iconic sexual site of the glory hole into a multitude of pleasure possibilities.
Toronto-based video artist and electronic composer Tasman Richardson performs his newest live dual projection Doppelganger, a musical and visual composition that induces sensations of doubt and deception through physical manipulations in temporal continuity. Tasman will lead a workshop on electronic video collage on Saturday, June 25 at EMMEDIA Gallery & Production Society.
Jennifer Crighton evokes her own doppleganger, The Hermitess, through a film, sound and sculptural installation, animated by an interdisciplinary performance.
Nicole Kelly Westman and Del Hillier bridge the worlds of contemporary art and country music with the launch of their newest cassette tape, Releasing: Live From UAS, Delvis and Loucey.
Justin Waddell curates a feast for the eyes and the body with Will, Wish, Want or Purpose, a video installation of historical and contemporary experimental films that explore relationships, sexuality, love and cooperation.
Beyond A Shadow brings together artists Fantavious Fritz, Zoe Koke and Matt Krysko for a group exhibition that considers variant forms of the music video format. The opening reception for Beyond A Shadow will include a free musical performance by Dada Plan.
Partnerships with the Marion Nicoll Gallery feature work by current and graduating ACAD students Susanne Aaltonen, Halie Finney and Emily Lendl (Did I tell you how I felt inside and out?) in the Main Space; Becky Russell (A Flicker, a Flood) in the LRT Window; and Seth Cardinal in the +15 Window (details coming soon).
We're also very pleased to announce a partnership with Contemporary Calgary for an exhibition of past Sled Island visual artists. The exhibition will feature a selection of the many wonderful artists who have worked with Sled Island over the past ten years, with the artists to be announced over the coming weeks.
Stay tuned for further announcements about Sled Island visual art programming and don't forget, while much of the art at Sled Island is free to attend, a Sled Island 2016 pass gives you access to all the music, comedy, film and art you can handle. Pick one up today at Sled Island.com, Sloth Records (736B 17th Ave. SW) or Lukes Drug Mart (112 4th St. NE).
Permalink