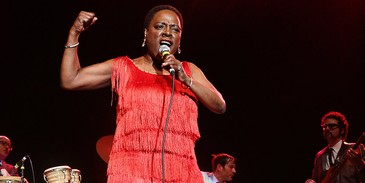 Coming this June to a Sled Island venue near you: five can't-miss films! We're excited to share the wealth of documentary and narrative features screening at Sled Island 2016.
First up is Miss Sharon Jones!, a moving documentary that follows Sharon Jones and her band The Dap-Kings as they face Jones' cancer diagnosis—right as they're poised for greater success. If you've heard the 2014 album Give the People What They Want, you know this doc has a happy ending, but Sharon Jones' courage and soul have to be witnessed.
Selected by Sled Island 2016 guest curator Peaches, Desire Will Set You Free is a funny, vibrant narrative feature that explores Berlin's underground and queer scenes through the eyes of Ezra, an American living in Berlin. Waltzing through the film are Peaches, "Godmother of Punk" Nina Hagen as well as Blixa Bargeld (formerly of Nick Cave & The Bad Seeds), among others.
Berlin makes a second appearance in Sled Island's 2016 film lineup with EMOCEAN, a wild documentary/mockumentary/musical by psychedelic synth band Fenster. Catch this engrossing visual and auditory experience at Sled Island before it becomes a cult classic!
Documentary Here Come the Videofreex follows a group of renegade journalists who sought to democratize American media in the late '60s and early '70s. Over two years, the collective covered the anti-war, Black Power and women's movements, and launched the country's first pirate television station. Insightful and at times humorous, this documentary is a time capsule of America on the brink of huge change and a timely addition to this year's film lineup.
I Am The Blues introduces us to original blues greats living America's Deep South. Though many are well into their 80s, their personalities and music are as big, vibrant and soulful as ever. This musical odyssey is compulsory viewing for new and dedicated blues fans alike.
Finally, we're excited to share that previously announced musician, videographer and music video director Vice Cooler will host an artist talk and Q&A on June 25 at Theatre Junction GRAND. Vice Cooler boasts a CV three times the length of someone twice his age, and has worked with Peaches, Lee Ranaldo, Slow Animal, KIT and others to make visionary music videos. More details coming soon!
Screening dates and locations will be announced in the coming weeks.
Want to see it all? A Sled Island 2016 pass gets in you (subject to capacity) and gives you access to all the music, comedy and art your heart desires. Pick one up today at Sled Island.com, Sloth Records (736B 17th Ave. SW) or Lukes Drug Mart (112 4th St. NE). Single tickets to Sled Island 2016 film screenings will be available at the door only.
Permalink