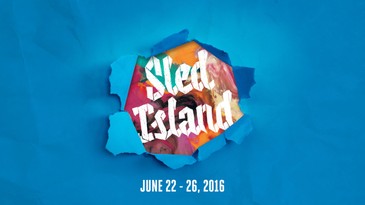 The time has finally come for us to announce the full Sled Island 2016 music lineup!
Today we unveil nearly 200 bands that will be joining us this June 22 - 26. Some new and exciting headliners include dancefloor-slaying producer Kaytranada at Flames Central on Friday, June 24, influential no wave act ESG at the #1 Legion on Wednesday, June 22, New England indie rockers Speedy Ortiz at Olympic Plaza on Saturday, June 25, kraut-tinged indie pop band Moon King at Broken City on Friday, June 24 and Olympic Plaza on Saturday, June 25, and psych-rock heavy weights The Besnard Lakes at The Palomino on Wednesday, June 22.
Our 2016 guest curator Peaches has a few more picks to announce: tropical club queen Maluca, border-blurring Warp act Lafawndah (who will perform at Flames Central on Saturday, June 25 with Peaches) and post-human producer Born In Flamez, who joins us for two special performances.
This year, the Sled Island Block Party will be held in Inglewood at the intersection of 10th Avenue and 10th Street SE on Thursday, June 23. Featured performers include UK club demolisher Chris Lorenzo, past Sled Island highlight HUMANS, Calgary via Detroit producer Sinistarr and more exciting acts to be announced.
On the heavier side of things, we have a performance by vicious thrashers Dead Cross (featuring members of Slayer, The Locust and Retox) on Wednesday, June 22 at Dickens, southern rock-inspired metal act Valient Thorr with dark-edged skate-punks PEARS at The Palomino on Saturday, June 25, and two sets of funeral doom by Bell Witch on Friday, June 24 and Saturday, June 25.
One musical addition that also bolsters our film program is a set of appearances by Berlin's Fenster. They will be performing a live score to their psychedelic mockumentary EMOCEAN at the Hifi Club on Tuesday, June 21, and playing a music-only set on another date TBA during the festival.
As always, Sled Island is thrilled to showcase Canadian bands from coast to coast. Showman extraordinaire BA Johnston, danceable guitar maestros Avec Le Soleil Sortant De Sa Bouche, veteran indie rockers By Divine Right, soulful electro-pop artist L.A. Foster, Timber Timbre collaborator Merganzer, self-produced indie rapper Mitchmatic, clangorous psych band The Switching Yard, demure shoegazers Traces, atmospheric slowcore group Vulva Culture, sludgy folk experimentalists WHOOP-Szo, seminal singer-songwriter duo Willie Thrasher & Linda Saddleback and black metal band Wilt join this year's lineup.
Over 65 bands from right here in Calgary will also be joining us this year. Newly announced local artists include the mysterious bass music duo Chuurch, scrappy punks Gawker, immense metal act Numenorean, dream-like folk artist L.T. Leif, fearsome rhymer Sinzere Sings and bilingual garage-pop band The Synthetiques.
All of these and a few more surprises join our previously announced lineup, with highlights including Guided By Voices, Deafheaven, The Sonics, Angel Olsen, Built To Spill, Julia Holter, Tortoise, PROTOMARTYR, Psychic TV, HEALTH, Oneida, SUUNS, SubRosa, The Seth Bogart Show, together PANGEA, Dawn of Midi, New Bomb Turks, Chastity Belt, TOPS, Land of Talk, Radioactivity, Circuit Des Yeux, JOOKLO ZAPPA, Shotgun Jimmie, Duchess Says and Crosss.
Also recently announced: this year's comedy program will feature Steph Tolev, Jeremy Carter, Cheryl Hann and many more. Browse the full lineup now.
Sled Island's film program is back as well, and includes Miss Sharon Jones, Peaches pick Desire Will Set You Free, Here Come The Videofreex, I Am The Blues and the aforementioned EMOCEAN. Take a closer look here.
This year's visual arts programming is perhaps our best yet! We're so excited for works like The Beginning of the Middle of the End by Jesse Beier, a monolith and an obelisk walk into a room by Ashley Bedet, GLORY, WHOLE by Nine Kennedy and much more. Get familiar today.
Limited quantities of new single tickets for select shows will go on sale this Friday, May 13 at 10:00am at SledIsland.com, Sloth Records (736B 17th Ave. SW) and Lukes Drug Mart (112 4th St. NE), but you can make the most of your Sled Island experience by choosing a festival pass! It's the only way see all the music, comedy, film and visual art you can handle from June 22 to 26, 2016.
Our full schedule with a few more surprises is coming very soon. Stay tuned!
Permalink