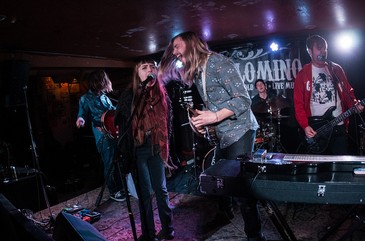 What do you get when you throw 30 of Calgary's best-loved musicians in a room, have them draw names from a hat to form new bands on the spot, and give them less than 12 hours to write and perform new material? Find out at the next Sled Island Rock Lotto!
Saturday, May 21, 2016
The Palomino Smokehouse & Social Club (109 7th Ave. SW)
Doors at 9pm, $10 at the door
The lineup has just been announced and can be found after the jump!
Vocals:
Kris Ellestad + guitar (Faebles)
Kaleem Khan (Slo Dance, Shaani Cage)
Gabrielle Comeau (The Vintage)
Jen Severtson
Sarah Adams (Louis CK Took My Baby Away)

Guitar:
Barry Mason (Zackariah & The Prophets)
Tory Rosso (Kyote)
Chris Vail (Nobaby, Vail Halen)
Clarke Alan Mcleod (The Ashley Soft)
Craig Evans (Napalmpom)
Bass:
Craig Storm (Bog Bodies)
Daniel McCormack (James Lamb, David Newberry)
Del Coburn (Windigo)
James Nerland (Fake Diamonds)
Mike Malkin (36?)
Drums:
Dylan Macleod (Sunglaciers)
Kevin Nelson (Woodhawk)
Mike Garth (Big Rock Brewery)
Mitch Cooper (Windigo)
Chuck Gould (The Jamies)
Misc:
Krzysztof Sujata (Valiska)
Noah Michael (Fuckboy)
Jennifer Crighton (Harp)
Al Pujo (Lucid 44)
Justin Van Groningen (Focus People)
Permalink