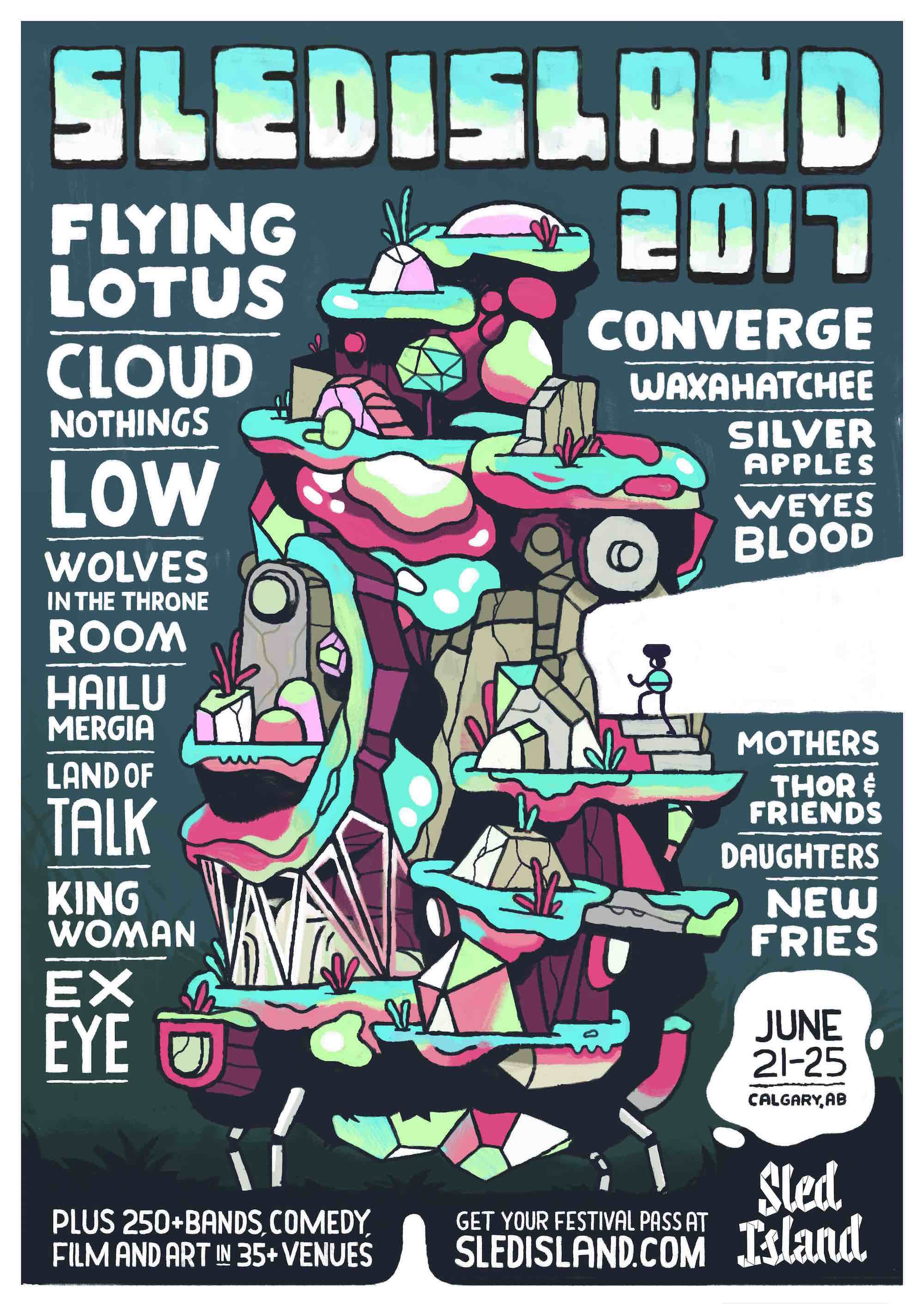 Your first look at Sled Island 2017 is here!
Our stunning first wave of 2017 artists includes beloved metalcore pioneers Converge (who will perform an intimate show at the #1 Legion), noise-rock phenoms Cloud Nothings, raw indie-rock songwriter Waxahatchee (who will perform a special solo show at the Central United Church), minimalist indie-rock legends Low, influential electronic experimentalist Silver Apples, atmospheric black metal band Wolves in the Throne Room and folk-pop songwriter Weyes Blood.
Ethiopian jazz great Hailu Mergia will make a stop at the festival, as well as grindcore band Daughters, recently-reformed and much-loved indie rock project Land of Talk (who return to Sled Island after a memorable show at the festival last year), avant-chamber ensemble Thor & Friends (the latest project of eye-popping percussionist and Sled Island alum Thor Harris), plus experimental metal band EX EYE (featuring avant-garde saxophonist and Sled Island alum Colin Stetson).
Additional bands joining the lineup include indie-folk group Mothers, intoxicating doom project King Woman and frenetic post-punk band New Fries.
Last month, we were excited to announce visionary producer, rapper, DJ, label owner and filmmaker Flying Lotus as 2017 guest curator. Flying Lotus' curatorial selections will be announced in the coming months, along with other festival acts, including additional headliners.
Special thanks to Josh Holinaty for this year's incredible poster art!
SaveSave
SaveSave
SaveSave
SaveSaveSaveSave
Save 15% on Sled Island 2017 Passes and Sampler Packs - BUY NOW
Save 15% on Sled Island 2017 Discovery Passes, Discovery Plus Passes and Sampler Packs until March 13, 2017! Purchase at SledIsland.com, Sloth Records (736B 17th Ave. SW) or Lukes Drug Mart (112 4th St. NE).
Single tickets to select shows will be available in spring 2017.
Four-Month Payment Plan - BUY NOW
No more waiting until the last minute to lock down your Sled Island pass! We're pleased to offer a payment plan for Discovery Passes and Discovery Plus Passes (early bird pricing does not apply). Purchase by March 31, 2017 and pay in four manageable monthly credit card installments. Easy!
Subscribe to the Sled Island Podcast - SUBSCRIBE NOW
Surprise! We've launched a podcast to help you get acquainted with all the amazing music, comedy, film and art we have in store for this year's festival. The best part? On each episode, we'll be revealing a festival artist not announced anywhere else. Subscribe now to dig deeper into today's announcement and for our first podcast-exclusive artist reveal!
Follow Sled Island on Spotify - FOLLOW NOW
If you're on Spotify, be sure to follow us for special playlists featuring some of the artists coming to this year's festival! First up: we've compiled a few tracks from our first wave anouncement for your listening pleasure.
New Travel Options - LEARN MORE
Hey Edmonton! We're teaming up with Red Arrow to make your trip to Sled Island easier and more affordable than ever. For less than $30 round-trip, travel to Calgary alongside other Sled Island attendees and arrive right on time for the five best days of your summer. Learn more and find additional travel deals from our friends at WestJet, Red Arrow and Hertz at the link above!
Permalink