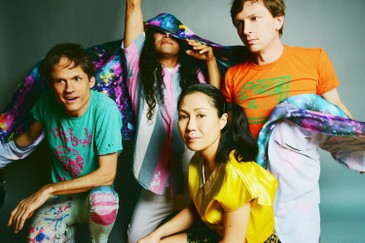 The first major milestone of the Sled Island 2018 season is upon us. We're delighted to announce that seminal art rock band Deerhoof will be joining us as guest curator of this year's festival!
Each year, Sled Island's guest curator puts their stamp on the festival through special programming choices and with their presence at the event. Deerhoof's curatorial selections, to be announced in spring 2018, will join more than 250 additional bands, comedy, film and art chosen by the festival in over 35 venues across Calgary from June 20 - 24, 2018.
In addition, Deerhoof will perform at the #1 Legion (116 7th Ave. SE) on June 23, 2018. Sled Island passes grant access (subject to capacity) and are currently available at SledIsland.com, Sloth Records (736B 17th Ave. SW) and Lukes Drug Mart (112 4th St. NE). Single tickets will be available in spring 2018.
Remember that today is your last chance to save 25% on Sled Island 2018 Discovery Passes and Discovery Plus Passes! Semi-early bird pricing takes effect tomorrow and lasts until February 13, 2018.
---
About Deerhoof
Deerhoof serve as Sled Island 2018 guest curator on the eve of the 25th anniversary of their chameleonic journey as a juggernaut art-rock band.
Across 14 studio albums and numerous other ventures, the unpredictable Deerhoof have kept listeners on their toes with a static shock of mutation at every turn. To capture the full scope of their output would require one to write a book, and we expect one day somebody will do just that.
For now, let's take a look at a few snapshots along the highlight reel. They've recorded sessions for the legendary John Peel, were selected by both Matt Groening (The Simpsons) and Sonic Youth to perform at All Tomorrow's Parties (ATP), toured with acts like Radiohead and Wilco, had an album adapted into a ballet, collaborated with Questlove and a hell of a lot more. Starting to get the picture
One example of Deerhoof's virtuosic versatility was their headlining set at Central United Church back at Sled Island 2010. The show predominantly featured one of the band's core signatures: a brain-scrambling duel between voracious drums and minimalist, convulsing bass, guitar and vocals. After rearranging the audience's insides, they closed out the set with a piano ballad so tender you could hear the C-Train gently whooshing by outside.
More recent is the group's 14th album, 2017's Mountain Moves. The highly collaborative work (Matana Roberts, Lætitia Sadier of Stereolab) was praised by Pitchfork as a "purposeful mosaic," impressive in its breadth of genre-hopping and emphasis on melody.
Eight years on from their last Sled Island performance, we expect only the unexpected from a group that refuses to stall reinvention for even a moment.
Permalink