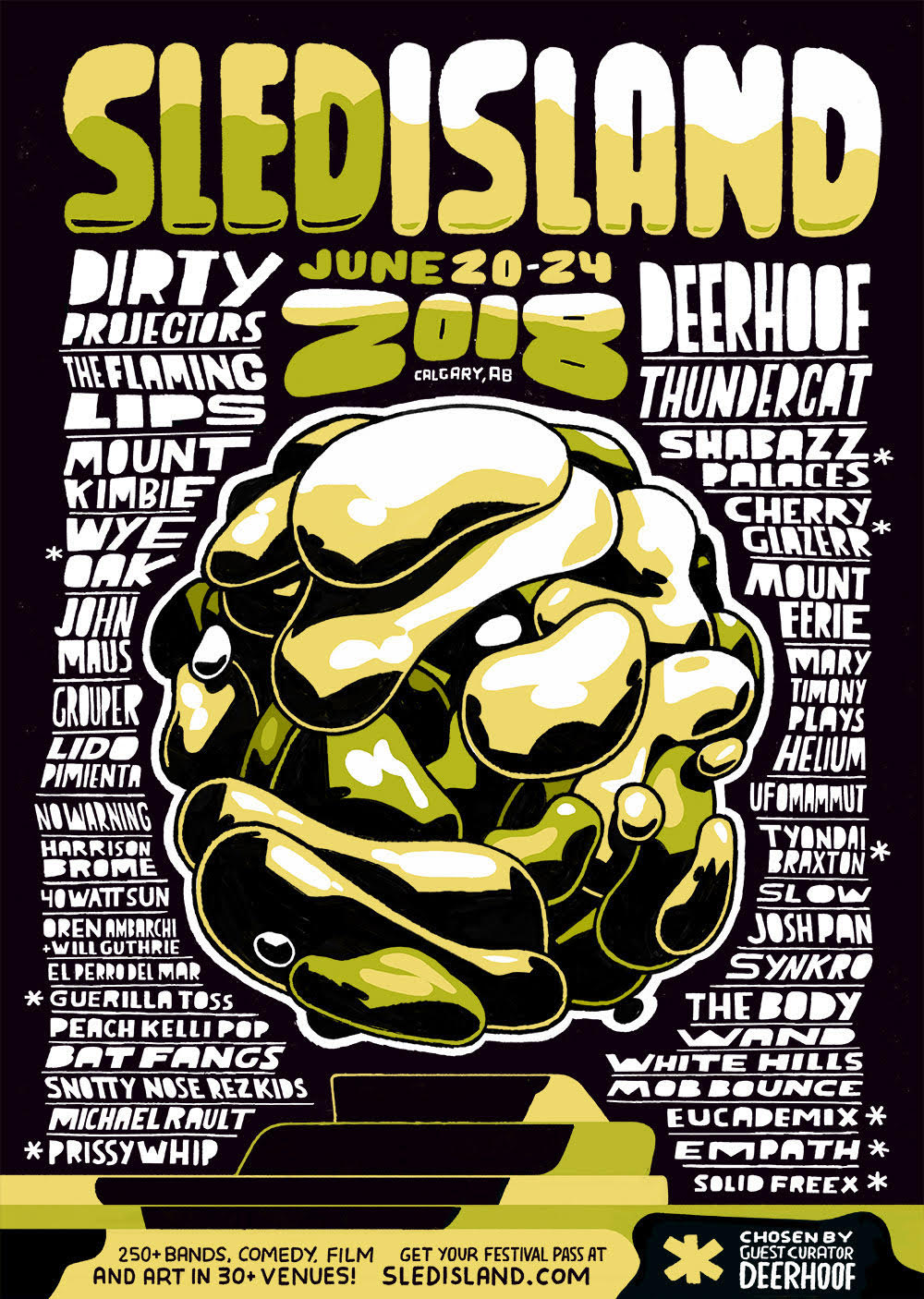 The wait is officially over—the full Sled Island 2018 lineup is here!
Newly-announced acts include bass-wielding funk warrior Thundercat (headlining The Palace Theatre on Wednesday, June 20), veteran psychedelic act The Flaming Lips (appearing at MacEwan Hall on Thursday, June 21) and Canadian hardcore legends No Warning (performing at Dickens on Wednesday, June 20).
Additional talent announced today includes critically-acclaimed songwriter Common Holly, dance-friendly noise-punks Eyeballs, multi-genre solo experimentalist Petra Glynt, bone-rattling noise rockers Kandekt, furious post-punk band Lié, beloved singer-songwriter Marlaena Moore, veteran psych pop act Mahogany Frog, howlin' indie punk Eamon McGrath, a double-dose of buzzworthy Indigenous hip-hop from Mob Bounce and Snotty Nose Rez Kids, theatrical pop star in the making NOVEMBER, experimental dance music maker Russell Louder, the always face-melting Shearing Pinx, snotty punks wlmrt, doom and psych purveyors WHOOP-Szo and Berlin's new wave wonder WORLD BRAIN.
A critical part of Sled Island is showing love to the musicians in our local community. We believe in all of them, but a few to whet your appetite are raw singer-songwriter Conversations with Bears, lo-fi house aficionado DJ Dine & Dash, ever-evolving indie rock act Feel Alright, improv act Friesen/Waters Duo, rap heavyweight LYRIQUE & The Honour Roll, garage-rock pros Miesha & The Spanks, dark electro-pop artist Polly Dactic, longtime favourite Samantha Savage Smith, jazzy post-punks Subjectivity and new dark synth act Uncanny Valley.
Find the complete list of 160+ new additions here.
Previously announced artists include Dirty Projectors, The Flaming Lips, Deerhoof, Wye Oak, Mount Kimbie, Shabazz Palaces, John Maus, Mary Timony Plays Helium, Cherry Glazerr, Mount Eerie, Grouper, Lido Pimienta, Ufomammut, Slow and many more.
The best way to experience Sled Island is with a Discovery Pass or Discovery Plus Pass. Bonus: anyone who buys a pass by Monday, April 30 at 4pm MDT will be entered to win the ultimate Sled Island experience! Learn more here.
A limited number of single tickets to newly-announced Sled Island 2018 shows will go on sale this Friday, April 20 at 12pm MDT at SledIsland.com, Sloth Records (736B 17th Ave. SW) and Lukes Drug Mart (112 4th St. NE).
Stay tuned for this year's visual art, comedy, special events and conference programming to be released in the coming weeks, as well as the full Sled Island 2018 schedule!
Permalink