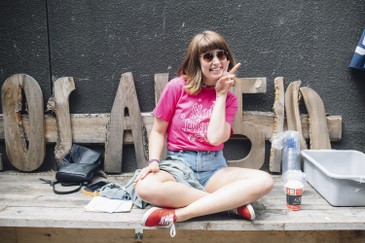 Are you a well-organized student with awesome people skills? We're seeking an Office Manager for our 2018 festival season!
Contract dates: May 14, 2018 - June 30, 2018 (30hrs/week)
Application deadline: May 4, 2018 at 5:00pm MDT
This position is funded by the Canada Summer Jobs program and is only open to students continuing their studies in the fall. To be eligible, students must:
Be between 15 and 30 years of age at the start of the employment;
Have been registered as full-time students in the previous academic year and intend to return to school on a full-time basis in the next academic year;
Be a Canadian citizen, permanent resident, or person to whom refugee protection has been conferred under the Immigration and Refugee Protection Act for the duration of the employment; and
Have a valid Social Insurance Number at the start of employment and be legally entitled to work in Canada in accordance with relevant provincial or territorial legislation and regulations.
RESPONSIBILITIES
The Office Manager is responsible for facilitating the efficient functioning of the Sled Island office through a range of clerical and organizational tasks in the weeks leading up to and during the festival. Duties include:
Greeting and providing information to visitors;
Answering the phone and answering emails sent to the festival's general information mailbox;
Managing office maintenance, office supplies, mailing and errands;
Coordinating office operations and procedures, including managing deliveries, storage and scheduling the meeting area;
Supervising office volunteers;
Assisting festival staff with various tasks; and
Other tasks as assigned.
REQUIREMENTS
Excellent written and verbal communication skills
Excellent interpersonal skills
Strong organizational and planning skills
Strong attention to detail and problem-solving skills
Ability to multitask and prioritize work
Resourceful and willing to take initiative
Proficiency in Microsoft Office
Familiarity with Sled Island is an asset
HOW TO APPLY
Please send a cover letter and resume with subject line "Office Manager" to Maud Salvi, Executive Director at maud@sledisland.com by May 4, 2018 at 5:00pm MDT.
(Photo: Mike Tan)
Permalink