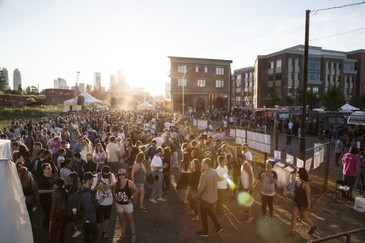 Get ready for the sixth annual, free, outdoor, all-ages Sled Island Block Party! We've planned a serious rager for Saturday, June 23, 2:00pm - 10:00pm.
The Sled Island Block Party is the biggest dance party at the festival! We're back in Inglewood and have lined up Bristol's house head honcho Will Clarke, R&B all-star Harrison Brome, bass monster josh pan, rave expert Carissa Gem, warehouse bass act Dillon Nathaniel, dynamic duo Magic & Johnson, electro-pop ingenue Selci, minimalist badass BB Mars, party wrecking crew B*les & The Suede, multi-lingual pop act Strangerfamiliar and the serious pipes of Symfan. Major thanks to our friends at the Hifi Club for curating this special lineup.
All that dancing calls for a little refreshment. Thankfully, Steam Whistle will be on hand with a beer garden to help keep you going. Look out for food trucks, too! You can also expect Sled Island and performer merch, plus the lovely Market Collective crew, who will be offering a special vintage clothing market for your shopping pleasure. Big thanks to the Inglewood BIA and the Ward Event Community Fund for their assistance and sponsorship of this event.
This is a rain or shine event. Let's party!
(Photo: Jessica Wittman)
Permalink