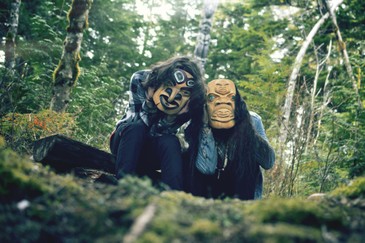 Sled Island is thrilled to unveil this year's lineup of Special Events and Conference programming.
New activities under the Special Events heading include a partnership with IRIM, Drum Beat and Arts Commons for a series of events in celebration of National Indigenous Peoples Day, featuring a Mini Pow Wow, a Rhythm of the People workshop co-led by Snotty Nose Rez Kids (pictured) and Mob Bounce, as well as an imagineNATIVE shorts package (outlined in our Film lineup). Look for more information on Sled Island's National Indigenous Peoples Day programming next week.
Another addition to the Special Events portion of Sled Island is a weekend of fun and learning at the Memorial Park Library, where music-lovers of all ages are invited to take music lessons and jam with fellow festival attendees.
Past favourites, such as Punk Rock Bingo, Quiz Shoe and the notorious Sled Island Wrap-Up Karaoke, will return this year better than ever.
Under the Conference heading, Sled Island 2018 will offer a focus on opportunities for musicians to meet directly with industry. Be sure to check out panels, networking opportunities and training sessions that offer a look inside the biz and valuable tools for ensuring a healthy music community.

While the majority of these events are free to the public, we suspect they'll have you wanting to check out the rest of what Sled Island has to offer. Get your pass today for access to our music, comedy, film and visual art options this June 20 - 24, 2018.
Permalink