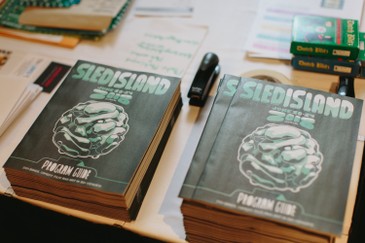 With more than 250 bands, comedy, film, art and special events happening at Sled Island 2018, a couple hiccups are only to be expected! We've compiled all of them in this handy blog post and will be updating it if any more tweaks happen. This is the most up-to-date information about all scheduling.
(Photo: Mat Simpson)
Wednesday, June 20
Overland has cancelled her appearance at Sled Island. HomeSick will now play an extended set at The HiFi Club from 9:00 - 11:00pm.
Dead Soft have cancelled their appearance at Sled Island 2018. They are replaced by Dadweed at the #1 Legion (Main Floor) at 11:00pm.
Megan Fenske's short film is no longer screening at Boom For Real: The Late Teenage Years of Jean-Michel Basquiat at the Globe Cinema.
Thursday, June 21
Members of Deerhoof and friends are now performing to the Argentina vs. Croatia World Cup game at noon at The Palomino (Upstairs). This event is called From Russia With Love (ARG vs. CRO).
Mahogany Frog is now playing at MacEwan Hall at 8:00pm.
nêhiyawak is now playing at 9:30pm at Commonwealth (Upstairs).
Friday, June 22
Jean Daddy has cancelled their appearance at Sled Island. Billy Moon replaces them at 8:00pm at Broken City (Patio).
WLMRT has cancelled their appearance at Sled Island. Chunder Buffet replaces them at 2:00pm at Palomino (Parking Lot).
Paul Jacobs has cancelled his appearance at Sled Island. Trash Hawks replace him at 2:00pm at Sloth Records.
Saturday, June 23
Paul Jacobs is replaced by Wayst at 9:30pm at Nite Owl (Library)
WLMRT are no longer playing at 4:00pm at Broken City. That slot has been left vacant to allow more changeover time at the venue.
Jean Daddy is replaced by The Plodes at 4:00pm at McHugh House.
Community Bystander Training at Memorial Park Library has been cancelled due to a family emergency.
Sled Island Yoga and live music at Central Memorial Park have been cancelled due to rain.
Marika Vandekraats' art performance has been moved from Central Memorial Park to the Memorial Park Library.
All bands scheduled to play the Palomino Parking Lot have been moved indoors.
Petra Glynt's set at Broken City has been cancelled. She will still perform at The Palace Theatre in the evening.
All bands on the Broken City patio (early show) have been moved indoors.
Permalink