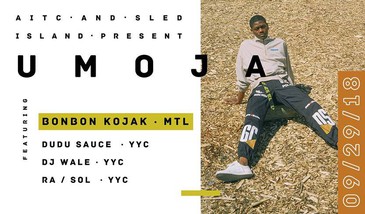 We're teaming up with Afros In Tha City to present UMOJA featuring Bonbon Kojak, Dudu Sauce, DJ Wale and Ra / Sol on September 29 at BLK RBT!
For the past few years, full moons in Montréal have come with the promise of skilfull curation by an enigmatic DJ who goes by Bonbon Kojak. He takes listeners on a high-octane journey through carefree tropical rhythms, exuberant Afro-house, brain-bending favela funk and all-around percussive hedonism.
Rocked by the Congolese sounds of his childhood, the DRC-born Bonbon Kojak always seemed to gravitate towards rhythm and vibration. After relocating to Johannesburg, he studied music in its many different forms. Since landing in Montreal, he has served as resident DJ at the cult Moonshine parties hosted by his eponymously named Afro-futuristic collective of musicians, DJs and visual artists.
Kojak has also shared the stage with the likes of Kaytranada, Windows 98 and Shabazz Palaces, and performed at last fall's RBMA Weekender and Boiler Room alongside South African GQOM king DJ Lag. He released the first installment of his Espoir 2018 mixtape series through OkayAfrica.
Known for his uncanny ability to juggle the latest Afrotronic sounds with a smattering of global rhythms, Kojak brings his lunar-based recipe for success to Calgary!
Advance tickets are $15 here.
Permalink