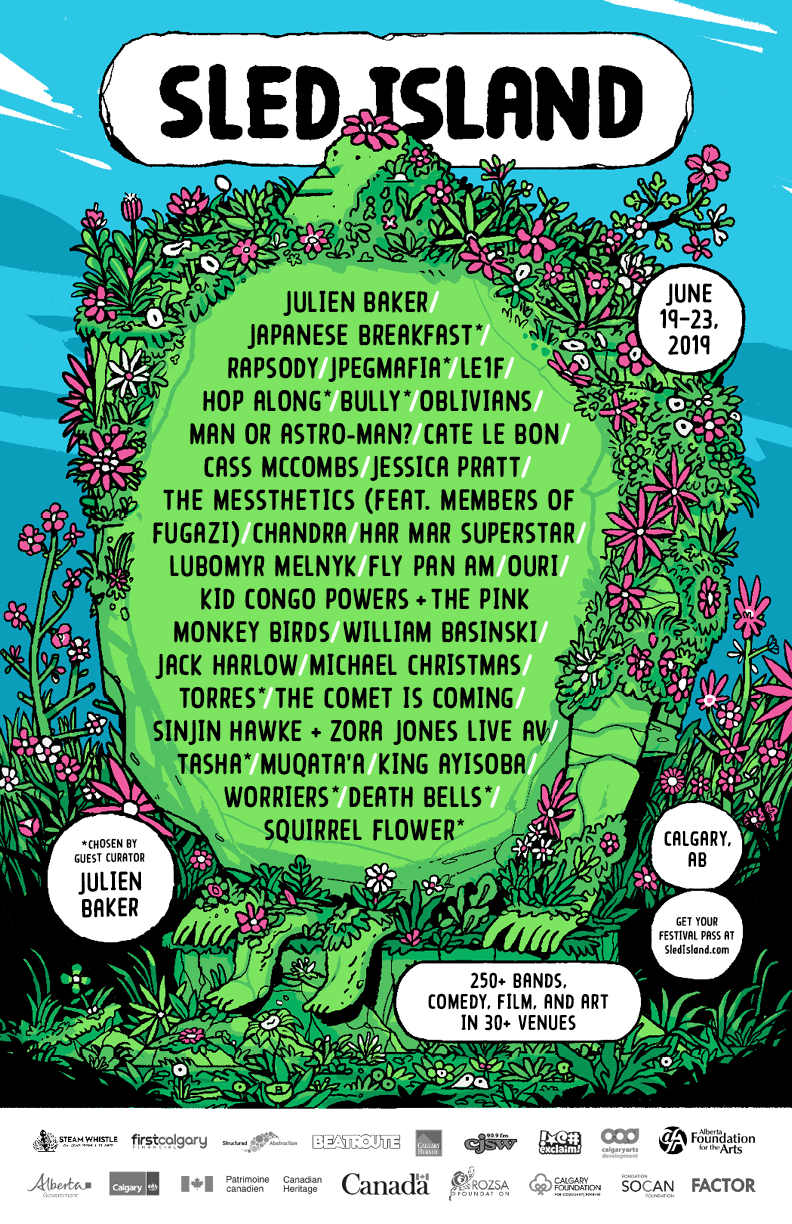 The second wave of Sled Island 2019 artists has arrived! With something for everyone, this diverse selection features both local and international artists spanning a wide array of genres.
Newly announced additions to this year's lineup include the incomparable hip-hop stylings of Rapsody, one of only six women ever nominated for a Grammy in the Best Rap Album category, the beautiful freak folk of Jessica Pratt, the sultry, sweaty R&B of Har Mar Superstar, Louisville-based trap prodigy Jack Harlow, the light-hearted indie-rap of Michael Christmas, experimental Palestinian producer Muqata'a (known as the godfather of underground hip-hop in Ramallah), and traditional Ghanian musician King Ayisoba. On top of that, the festival welcomes poet, activist and soulful singer-songwriter Tasha, handpicked by our guest curator Julien Baker, Ian Blurton's Future Now, the latest righteous offering from the national treasure (C'mon, Change Of Heart, Public Animal), and indie-rocker turned electronic sensation Graham Van Pelt (Miracle Fortress, Think About Life). These acts join already announced artists such as guest curator Julien Baker, Japanese Breakfast, JPEGMAFIA, Le1f, Hop Along, Bully, Oblivians, Man Or Astro-Man?, Cate Le Bon, The Messthetics, Fly Pan Am, William Basinski, Kid Congo Powers + the Pink Monkey Birds and many, many more.
As always, this year will feature plenty of local Calgary talent as well, including post-punks Melted Mirror, industrial noise outfit DRI HIEV, riot grrl favorites The Shiverettes, alternative dream-rockers Lashes, and the fast-paced indie licks of Sunglaciers. This is rounded out with the fuzzy 90s love letter of Paradise, the smooth flow of hip-hop veteran Sinzere, the seasoned indie rock stylings of Clinton St. John's Ig Bo Lyn, stoner rockers Chron Goblin, experimental electronic act Corinthian, and 80s-influenced synthwave band NETRVNNNER.
We are very excited to announce two Korean bands joining this year's festival: the psych-rock of DTSQ, and the electro-pop trio numnum. For those who prefer the indie side of things, we're adding anybodys, Blessed, Blue Odeur, The Garrys, Jo Passed, Lemongrab, Marlaena Moore, Motherhood and Sister Ray. On the rockier end, we're happy to have Big Evil Rat, EXITS, GYM Tonic, Life In Vacuum and Wine Lips. For fans of electronic, experimental and hip-hop, join us in welcoming Justin Wright, Leucrocuta, Lex Leosis, Matthew Cardinal, Natural Sympathies, Physical Copies and Psychic Pollution.

The complete lineup, including 180+ more bands, as well as comedy, film, art and special events will be announced in the coming months.
Watch the Sled Island 2019 festival trailer!


Illustration: Josh Holinaty
Animation: Jarett Sitter
Sled Island passes grant access to all Sled Island 2019 shows (subject to capacity) and are currently available at SledIsland.com, Sloth Records (736B 17th Ave. SW) and Lukes Drug Mart (112 4th St. NE).
A limited number of single tickets to newly-announced Sled Island 2019 shows will go on sale this Friday, March 22 at 12:00pm MST online and at these same outlets.

We're still offering a four-month payment plan for those looking to break up their spending! Initial purchase must be made before April 15, 2019.
If you're travelling to Sled Island this year, we encourage you to check out our travel and accomodation deals for this year, and stay tuned as more will be announced soon!
Permalink