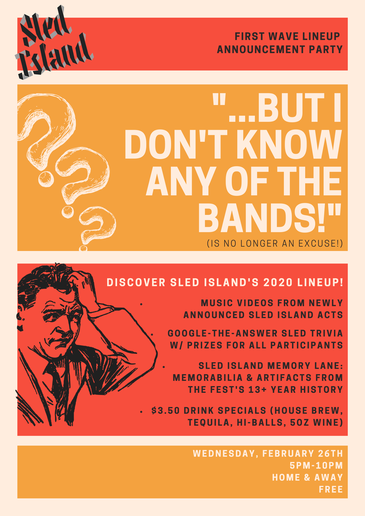 Thank you to everyone who came out to our first wave lineup announcement party, and to those who took part in our unqiue Sled Island Google-the-answer trivia! For anyone who missed it and wants to see what the challenge looked like, check it out! For those who participated and are dying to know the answers, see below!
Congratulations to Nathan Ross and Jessica Pickering for being the big winners of the night and scoring two Discovery Passes to Sled Island 2020!

PART 1: SLED ISLAND 2020 INITIAL LINEUP

1. "I'm too old for Sled Island" no longer applies. Which now famous new-wave and post-punk band opened for the legendary Sun Ra all the way back in 1975 in Cleveland?
DEVO
2. Transcendental metal band OM released a 35 minute Live In Jerusalem album, which represented just a fraction of the set they played that night. How long did the band actually perform for?
OVER 5 HOURS
3. Which newly announced artists has had a song featured in the critically acclaimed HBO series Insecure?
JAMIRE WILLIAMS, CREDITED AS "ERIMAJ"
A three-parter for you! Austin's The Black Angels may be the torch-bearers of neo-psychedlia, but they never forget their roots. Looking into their past...

4. The Black Angels got their name from which influential 1960s band?
THE VELVET UNDERGROUND
5. In 2008, The Black Angels performed as the backing band for which artist, arguably responsible with his previous band for the creation of psychedelic rock music?
ROKY ERICKSON (THE 13TH FLOOR ELEVATORS)
6. The Black Angels are no stranger to festivals, in fact they started their own! Before it was known as Levitation, this psych rock-focused festival was called what?
AUSTIN PSYCH FEST
7. Stranger Than Fiction? In season 3 of a Netflix political series, members of Pussy Riot made a much-publicized cameo appearance. What was the show and which members were featured?
HOUSE OF CARDS, NADYA TOLOKONNIKOVA AND MARIA ALYOKHINA
8. Sultry pop singer Alex Cameron wrote 5 tracks for which Billboard chart-topping album by The Killers?
WONDERFUL, WONDERFUL
9. Kelela, who last performed at Sled Island in 2013, brought greater attention to which Sled 2020 artist by featuring them on her 2018 remix album, Take Me A_Part?
AHYA SIMONE
10. Which musician that performed at Commonwealth for Sled 2019 also performed in the Sun Ra Arkestra?
SHABAKA HUTCHINGS (THE COMET IS COMING)
11. Sudan Archives is Sled Island's 2020 Guest Curator (and we couldn't be more excited). List all of Sudan Archives' selections that reside in Los Angeles.
WE ACCEPTED THE FOLLOWING ANSWER:
A) DADDY
B) DADDY, JAMIRE WILLIAMS
C) DADDY, JAMIRE WILLIAMS, LOS RETROS
(AS LOS RETROS ARE TECHNICALLY FROM OXNARD AND JAMIRE WILLIAMS CURRENTLY RESIDES IN LOS ANGELES, BUT IS OFTEN LISTED AS FROM NEW YORK)
12. The latest single from Diet Cig, "Night Terrors" came out on which label started by a member of Sled Island alumni Les Savy Fav?
FRENCHKISS RECORDS
13. In the trailer for the Lydia Lunch documentary the War Is Never Over, everyone from L7's Donita Sparks to Sonic Youth's Thurston Moore sing her praises. Which Sled Island 2015 artist professes: "Lydia is a fucking doctor. Her kind of medicine is just a punch in the fucking face?"
CARLA BOZULICH
14. In the Adult Swim episode Joe Pera Shows You How To Dance, the wholesome comedian demonstrates the importance of incorporating clothing into a dance routine. What piece of clothing does he play guitar with?
NECKTIE
15. Grouper's Liz Harris returns to Sled Island in 2020 as Nivhek after a sold-out performance at Studio Bell in 2018. Which two acts opened for her?
EMU & RESPECTFULCHILD
16. Eyebrows may have been raised at first with the selection of Show Me The Body by Sudan Archives, but it tracks! They are unlike pretty much any other hardcore band on the planet. What unconventional stringed instrument does the band incorporate into their setup?
BANJO
17. Able to stomach Pitchfork's notoriously wordy reviews? In their review of Liturgy's H.A.Q.Q., the website says the band's wild expanses of black metal are buttressed by a choir of which two instruments?
GLOCKENSPIEL & VIBRAPHONE
18. Diet Cig have a song called "Barf Day" that features the lyrics "I just wanna have ice cream on my birthday," and that rules. According to a 2017 Spin interview, what ice cream flavour is preferred by Alex Luciano?
CRUMBS ALONG THE MOHAWK (STEWART'S - GRAHAM CRACKER ICE CREAM/CARAMEL SWIRLS/GRAHAM CRACKER CHUNKS)
19. Don't know Sacred Paws? Maybe you know the other projects of Rachel Aggs and Eilidh Rodgers. Name at least two other bands either member plays in.
SHOPPING, TRASH KIT, GOLDEN GRRLS
PART 2: SLED ISLAND HISTORY & MISCELLANEOUS
20. Sled Island 2020 will represent what edition for the festival?
14TH (WE ACCEPTED THOSE WHO POINTED OUT THAT 13 OR 13.5 WAS TRUE BECAUSE OF THE CANCELLED EDITION OF THE FESTIVAL TOO)
21. In 2013, Sled Island was, heartbreakingly cancelled. Why?
FLOOD
22. In 2014 local brewery Big Rock produced a special Sled Island can for which beer of theirs?
SAAZ (WHILE THEY PRODUCED A CAN FOR THE BIG ROCK IPA, IT WASN'T IN 2014)
23. Not so small, huh? In 2015, an economic impact study produced by Canadian Sports Tourism Alliance showed that Sled Island generated how much in economic activity for Alberta that year?
3.4 MILLION DOLLARS
24. Which former Calgarian designed the general Sled Island 2018, 2019 and 2020 posters?
JOSH HOLINATY
25. Which now mainstream Canadian rock band was first on a bill of 5 opening for Tricky Woo in 2009 at Vern's?
THE SHEEPDOGS
26. How many Sled Islands has everyone's favourite hot dog joint/punk rock venue Tubby taken part in as a venue?
11 (WE ACCEPTED ANSWERS THAT WERE CLOSE BUT SPECIFIED THINGS LIKE THE CANCELLED FLOOD YEAR, ETC.)
27. Which recently re-located venue hosted the Sled Island poster show, printed by Burnt Toast Studios, in 2016?
HOME & AWAY
28. Which Calgarian act was signed to Sub Pop after Shabazz Palaces saw their Sled Island set at the #1 Legion?
CARTEL MADRAS
29. Sled Island's office may lack windows, but it doesn't lack good intentions and people. Name one of the two organizations that shares the office space.
BEACON
PROHAB
(WE ACCEPTED THOSE WHO ANSWERED GREEN EVENT SERVICES, NOT KNOWING THAT THEY MOVED OUT RECENTLY)
30. Who was Sled Island's first guest curator and name at least one project he's been in.
MARK HAMILTON, WOODPIGEON/QUENCH/FRONTPERSON, ETC.
31. Which band has played Sled Island more times than any other? Hint: our website lists 'em all!
LAB COAST, LUCID 44 (9 TIMES EACH)
WE ALSO ACCEPTED SMALLTOWN DJS (8 TIMES) AS THEY MAY HAVE HAD A DJ SLOT WE FORGOT TO MARK DOWN IN THE PROGRAM GUIDE ONE TIME
PART 3: TIE-BREAKER - SLED ISLAND VENUES
Pour one out (not physically, we don't want Home & Away to have to clean up after us) for those that are no longer with us.

Please take a moment of silence and list any venues you can think of that have taken part in Sled Island that no longer exist in 2020.
THE LIST IS LONG AND CAN BE FLUID BASED ON IF THE BUSINESSES STILL EXIST BUT NO LONGER DO SHOWS, OR STILL DO SHOWS IN THE SAME SPACE, BUT CHANGED OWNERSHIP & NAME
809 Gallery
Amsterdam Rhino
Ant Hill Building
The Area
Auburn Saloon
Avalanche!
Bamboo
Cantos
Circa Gallery
Comrad Sound
Distillery
Drum & Monkey
Forbidden Gallery
Golden Age Club
Good Luck Bar
Goodlife Community Bicycle Shop
Haight Gallery
Local 510
Local 510 Parking Lot
Local Library
Marquee Room
New Black
Nite Owl (Library)
Nite Owl (Main Floor)
Penguin Car Wash
Pith Gallery
Quincy's
Republik
Simmons Building
Skew Gallery
Underground
Undermountain
Uptown Stage & Screen
Warehouse
Wine-Ohs
PART 4: TIE-BREAKER - THE NEAR-IMPOSSIBLE QUESTION!

In the very unlikely event that multiple trivia players still tie for the high score, we'll use this question as the tiebreaker.

Since its inception, Sled Island has showcased how many unique bands at the festival (not double counting artists that have played multiple years)?

The closest, without going over, wins!
1971
Permalink