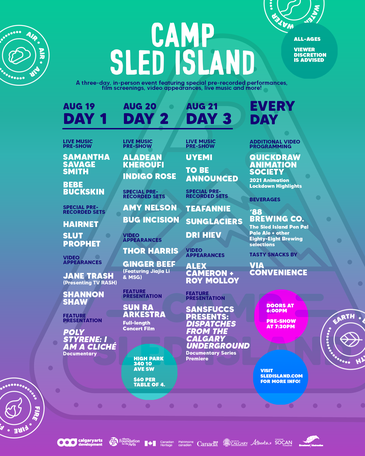 Camp Sled Island is a three-day event taking place at Beltline's High Park (340 10 Ave SW), running August 19 - 21! Throughout the year, we've been collecting video content from local and international artists, and now we are very excited to finally share them on the big screen. With three unique nights of programming, you can expect pre-recorded performances, film screenings, special guest video appearances, snacks from Via Convenience, beer service courtesy of Eighty-Eight Brewing, and even live music (if restrictions allow). Tickets go on sale July 23, 2021 at noon MDT. Visit our ticket page for more information.
For this year's event, we've commissioned some of our favourite Calgary artists to film very special one-of-a-kind performances, each with a unique concept and location, and it's all exclusive to Sled Island! Think recorded performances aren't that exciting? We might just be able to change your mind. Come see what kind of magic happens when industrial noise punks DRI HIEV, feminist post-punks Slut Prophet, hip-hop connoisseur TeaFannie, indie psych mainstays Sunglaciers, experimental improv collective Bug Incision, old-timey country singer-songwriter Amy Nelson and funky punk four-piece Hairnet are given the resources to execute their vision. Not only that, but these video performances are the first of an ongoing effort from Sled Island to properly document Calgary's incredible, often under-heard music community, so you can expect a lot more to come.

On top of this, we'll also be presenting several feature presentations, including a full-length concert film from the legendary cosmic jazz group Sun Ra Arkestra, the debut of local production collective SANSFUCCS' mini-documentary series Dispatches From the Calgary Underground, highlighting the many artists shaping Calgary's underground scene, as well as Poly Styrene: I Am a Cliché, the story of punk icon and X-Ray Spex frontwoman Poly Styrene, and nine animated short films from Quickdraw Animation Society's 2021 Animation Lockdown Challenge, which will be spread out across the three nights of programming.

Additional video content will include special guest appearances from local and international artists. This collection of videos will feature standout segments made by Sled Island favourites, including a mini-doc from Australian soft rockers Alex Cameron & Roy Molloy on the making of their new album, a Bob Ross-inspired painting workshop with Shannon Shaw (Shannon & the Clams, Hunx and His Punx), some words of wisdom and hope from Thor Harris (Swans, Thor & Friends), an indie rock puppet show from Calgary artist Jane Trash, and a brand-new music video from Ginger Beef, the dynamic new project from flutist Jiajia Li and producer MSG.

Not only that, but due to the recent changes to public health restrictions in Alberta, we've decided that we can safely present a limited selection of live music this year, so ahead of each night's video programming we'll be featuring two local artists for in-person performances! This includes live sets from Calgary singer-songwriter Samantha Savage Smith, Nêhiyaw songstress Bebe Buckskin, Edmonton soul singer Aladean Kheroufi, R&B and soul inspired artist Indigo Rose, electronic-infused R&B performer Uyemi, and one last special guest to be announced at the end of July.

Lastly, we're very excited to announce our new partnership with Eighty-Eight Brewing where we've collectively created the new Sled Island Pen Pal Pale Ale, a hazy IPA with guava and sea salt! This new brew is a perfect summer beer and will be available in August at the event, along with many other Eighty-Eight selections. Tasty snacks from Via Convenience will also be present throughout the three days.

Still considering the safety of our patrons amongst the recent public health changes, seating will be arranged by tables of four (60 total) and can be purchased for $60 each. One person will be asked to purchase a ticket on behalf of their group, and will need to provide general information for contact tracing purposes. The purchaser will receive four individual tickets that can be dispersed amongst their group. Tickets will go on sale on Friday, July 23 at noon MDT at SledIsland.com.

This is an all-ages event, but viewer discretion is advised.
Poster by Shalom Toy.
Permalink