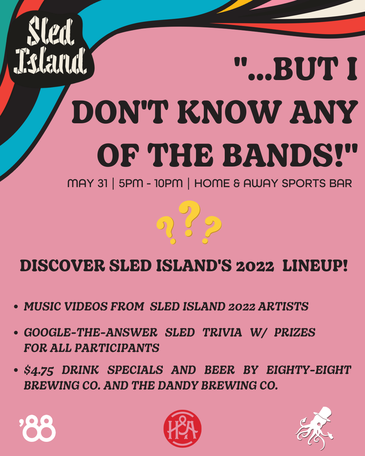 Join us for the return of Sled Island's "…But I Don't Know Any of the Bands!" on May 31 at Home & Away!
Come discover this year's lineup with a night full of music videos from select Sled Island 2022 artists, Google-the-answer trivia, $4.75 drink specials, and delicious beer from our sponsors at Eighty-Eight and Dandy Brewing!
Prizes for Google-the-answer trivia include two Discovery Passes for the person with the most correct answers, but every participant will receive a prize!
That's right! "But I don't know any of the bands" is no longer an excuse. Come have a chat with your friendly neighbourhood Sled staff and get hyped on what's coming to Calgary for Sled Island this June!
5pm - 10pm. FREE!
Permalink