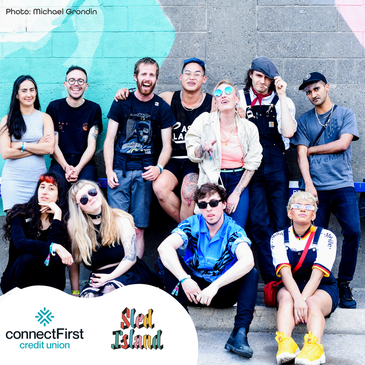 We can't wait to join the party!
You love music, and so do we. That's why we're so excited to have the opportunity to support Sled Island this year.
But who are we and why are we the presenting sponsor?
First things first: we're not a bank. connectFirst is a credit union, which means our members are not numbers, they're one of us. Literally. We talk a lot at connectFirst about building a brighter future for all Albertans and creating a movement of hope. We see so much optimism in our members, their businesses, and their communities. We believe that when Albertans come together great things happen, and we want to create a place where our members feel inspired and supported.
That's why we're here. To get inspired by this incredible festival and help create community connections.

We've got a lot planned for the festival – from fun activities for kids at the Ramsay Block Party to late night surprises at the Legion (got the post-show munchies anyone?), we want to help make your festival experience one for the memory books. We've also teamed up with Sloth Records to offer you an awesome new member deal, so if you're not currently a member of connectFirst, and would like to sign up, you'll get $200 to spend at Sloth Records.
All that said, the thing we're most proud of is the fact that we're supporting the artist equity program. Like all of you, we truly value the arts and understand the important role that cultural experiences play in building successful communities – and what better way can we show our support than increasing the pay for local artists.
So don't forget to stay hydrated and wear your bike helmet, and have an awesome time exploring all the amazing talented artists and performers!
Permalink