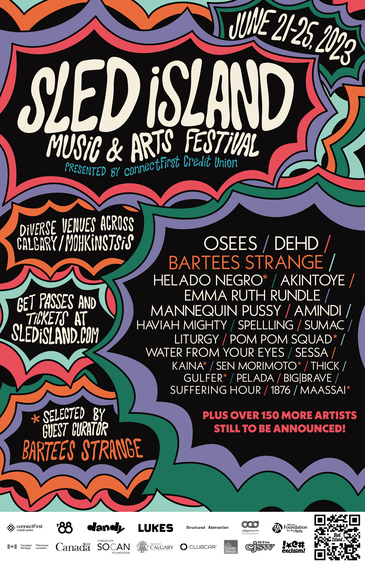 The first wave of Sled Island 2023 artists is here!
Joining Sled Island's previously announced 2023 guest curator, Bartees Strange, are garage rock chameleons Osees, Chicago-based indie rock three-piece DEHD, Latin folk innovator Helado Negro (selected by Bartees Strange), Toronto's viral hip-hop sensation Akintoye, gothic folk artist Emma Ruth Rundle (playing a solo piano set at Central United Church), Philadelphia-based punk rock revolutionaries Mannequin Pussy, alternative R&B/hip-hop artist Amindi, Toronto-based rapper and 2019 Polaris Music Prize winner Haviah Mighty, and indie pop musician SPELLLING.
Also included in the first wave lineup is post-metal supergroup SUMAC, progressive black metal outfit Liturgy, experimental electro-pop duo Water From Your Eyes, bossa nova-infused psych-folk artist Sessa (formerly of Yonatan Gat), Brooklyn-based garage rock trio THICK, Montreal electronic punk duo Pelada, ambient metal trio BIG|BRAVE, genre-bending death metal three-piece Suffering Hour, and self-proclaimed "pow wow punk rockers" 1876.
Each year, Sled Island's guest curator helps to shape the festival's programming. Bartees Strange's previously mentioned selection, Helado Negro, is rounded out by an incredible collection of talent, including grunge-meets-indie group Pom Pom Squad, soulful singer-songwriter KAINA, Japanese jazz rap artist and saxophonist Sen Morimoto, math rock-inspired emo outfit Gulfer, acclaimed avant-garde rapper Maassai, and more still to be announced.
Sled Island's complete 2023 lineup will be announced in the coming months, including additional headliners, over 150 more bands, as well as comedy, film, visual art, special events and conference programming. For now, start checking out these newly announced artists through our web player, or visit our Sled Island 2023 Spotify playlist!

Sled Island passes are currently on sale at SledIsland.com, and Lukes Drug Mart (112 4th St. NE). Today is the final day to save 20% on select Sled Island passes. Regular prices go into effect tomorrow, February 1, 2023 at 12:00am MST.
For those who can't attend the whole festival, a limited number of single show tickets to select Sled Island 2023 shows will go on sale this Friday, February 3 at noon MST.
Thank you to our sponsors and funders at connectFirst Credit Union, Lukes Drug Mart, Eighty-Eight Brewing Company, Dandy Brewing, Club Car Beverages, Calgary Arts Development, Alberta Foundation for the Arts, Structured Abstraction, SOCAN Foundation, Venture for Canada, and the Government of Canada.
A huge shout out to Becca Lowe for this year's incredible poster art!
Permalink