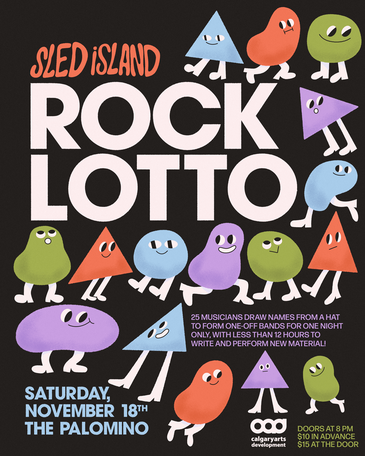 The always entertaining and unpredictable Sled Island Rock Lotto will make its triumphant return on Saturday, November 18!

Join us at the Palomino Smokehouse and Social Club, where we'll bring together 25 musicians from various backgrounds and draw names from a hat to form one-off bands for one night only, with just 12 hours to write and perform new material!

This year, the event is focused on creating meaningful connections between musicians just starting their music journey in the city and artists more familiar with the Calgary music scene, with the goal of fostering a more diverse music ecosystem and increasing equitable access to creative opportunities for all.
UPDATE! Names have been drawn, bands have been formed, and we're off to the races!

BAND ONE
Emerson Fraser
Isabella Ríos (Bella Ríos / Katibala Music Project)

BAND TWO
Jo Rose Papasin (jo.)
Carlin Black Rabbit (No More Moments / Iron Tusk)

BAND THREE
Max Appelt (Paloma Negra / Mera Reyes / La Santa)
Daniel Baker (BRIDGELAND / Witch Victim)
Jamie McNamara (BRIDGELAND / Witch Victim)

BAND FOUR
Hassan Rizwan (Madhuban Performing Arts)
Gus Rendell (Cheer / Brain Bent)
Yohan Mascarenhas (Madhuban Performing Arts)
Partha Gouda (Madhuban Performing Arts)

BAND FIVE
Michaela Gilchrist (Victrix)
Tan Varma (Madhuban Performing Arts)
Aditya Chaudhuri (Madhuban Performing Arts)


Tickets are on sale now! For more information and for tickets, visit Showpass.com/RockLotto2023.
Tickets are $10 in advance, $15 at the door. If you would like to attend but ticket prices are a barrier, please contact info@sledisland.com.⁠

Thanks to Calgary Arts Development for making this event possible!
A huge shout out to Becca Lowe for the awesome poster art!
Permalink