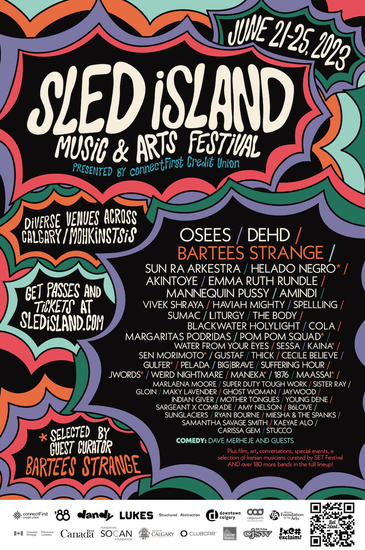 Our full lineup is finally here, with over 200 artists set to perform at this year's festival!
Newly announced headliners include indie pop musician, visual artist and trans activist Vivek Shraya, experimental metal duo The Body, Portland-based heavy psych five-piece Blackwater Holylight, Montreal post-punk trio Cola (featuring past members of Ought), Mexican grunge-meets-shoegaze outfit Margaritas Podridas, Brooklyn-based art punks Gustaf, acclaimed electro-pop star and SOPHIE collaborator Cecile Believe (formerly known as Mozart's Sister), Philadelphia-based electronic beatmaker and Bartees Strange selection JWords, poppy alt-rock group Weird Nightmare (the new side project from Metz frontman Alex Edkins), and Maneka, the genre-agnostic alternative act featuring former Speedy Ortiz guitarist Devin McKnight (also selected by Bartees Strange). These acts join already announced artists such as Osees, DEHD, Bartees Strange, Sun Ra Arkestra, Helado Negro, Akintoye, Emma Ruth Rundle, Mannequin Pussy, Amindi, Haviah Mighty, SPELLLING, and many more!
New this year, Sled Island has established a partnership with Iranian artist-run festival SET Experimental Art Events, who has curated a selection of some of the most exciting electronic and experimental musicians from Iran and its diaspora, to perform at this year's festival. ⁠The project, titled SLED X SET, is the beginning of what is hoped to be an ongoing collaboration meant to build relationships between the Iranian and Canadian artistic scenes, and to bring more cutting-edge and boundary-pushing music and multimedia art to Calgary and beyond. The exciting experimental artists joining Sled Island this year include Sepehr, Temp-Illusion X Amir B. Ash, Roya, HERR SPECTRE, Maryam Sirvan, SarrSew, mHz and Hailstones.
On top of that, there's plenty of exciting emerging acts in the 2023 lineup, with over 200 artists that were hand-picked through Sled Island's submission process. Highlights include indie rock singer-songwriter Marlaena Moore, '90s-inspired hip-hop big band Super Duty Tough Work, Toronto-based noise rock four-piece Gloin, Montreal alternative R&B/hip-hop artist Maky Lavender, dusty garage rock duo Ghost Woman, Winnipeg bedroom pop artist JayWood, Indigenous hardcore group Indian Giver, psychedelic art rock six-piece Mother Tongues, soul-bearing singer-songwriter Sister Ray and First Nations electronic producer Young Dene.
As always, there's an incredible selection of local talent joining this year's festival, including beloved neo soul duo Sargeant X Comrade, old-timey singer-songwriter Amy Nelson, eccentric trap artist 86LOVE, ambient art-rock outfit Sunglaciers, psych-laden songsmith Ryan Bourne, femme-powered garage rock duo Miesha & The Spanks, cherished singer-songwriter Samantha Savage Smith, lauded R&B newcomer Kaeyae Alo, esteemed electronic producer Carissa Gem, and post-punk supergroup Stucco, featuring members of DRI HIEV and Slut Prophet.
Lastly, Sled Island is excited to announce that Juno award-winning comedian and actor Dave Merheje will be this year's comedy headliner! Aside from his highly original stand-up acts, Merheje is known for his role in the acclaimed comedy series Ramy, and co-starred in the indie film Sometimes I Think About Dying alongside Daisy Ridley. This year's headliner will be joined by other hilarious acts including Jordanne Brown, Tin Lorica, Mark Little, Amy Edgar, Jeff D'Silva, and Sarah Adams.
To see the complete lineup, visit SledIsland.com. The Sled Island 2023 schedule will be announced in the coming weeks, along with film, art, special events and conference programming. Give it all a listen on our web player, or visit our Sled Island 2023 Spotify playlist, freshly updated with over 170 new tracks!
Passes are on sale at SledIsland.com, and Lukes Drug Mart (112 4th St. NE). A limited number of single tickets to newly-announced Sled Island 2023 shows will go on sale this Friday, May 5 at 12pm MDT.
Thank you to our sponsors and funders at connectFirst Credit Union, Lukes Drug Mart, Eighty-Eight Brewing Company, Dandy Brewing Company, CLUBCAR Beverages, Calgary Downtown Association, Calgary Arts Development, Alberta Foundation for the Arts, Structured Abstraction, SOCAN Foundation, Venture for Canada, and the Government of Canada.⁠
Shout out to Becca Lowe for this year's poster art!
Permalink