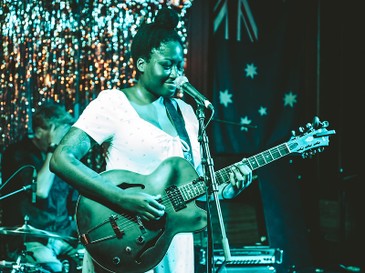 Since 2007, Sled Island's thoughtful, eclectic programming and independent spirit has produced a one-of-a-kind festival experience. As presenting sponsor of Sled Island, connectFirst is proud to help bring five-days' worth of music and arts to the community. We're also thrilled that our contribution goes towards supporting equitable compensation for emerging artists through the Artist Equity Program. We recently sat down with Maud Salvi, Executive Director of Sled Island, to get her thoughts on the Artist Equity Program and how financial institutions can do more to support working artists.
According to Maud, the Artist Equity Program, at its core, is an acknowledgement that emerging artists need to be paid more – it's as simple as that.
The great thing about festivals like Sled Island, that are multi-venue and multi-day, is that they draw some big-name artists who also play alongside early-career artists, giving festivalgoers an excellent variety of experiences. There's a misconception, however, that these emerging artists should just be thankful to have people hear their music and see them perform – that the benefit of the exposure alone should be enough compensation.
In 2021, the team at Sled Island decided to raise awareness about the lack of funding available for emerging artists and committed to the Artist Equity Program for five years. Meaning that for the next five years they are focused on increasing artists' pay. As an added benefit, it also increases accessibility for these artists to be able to perform.

"We believe that showcasing your talents at Sled should be an opportunity that everyone can access, not only those who can afford to pay for childcare or take time off work," Maud said.
"Given the scale of our festival, we have about 200 new or emerging artists per year. We knew we would need partners to make the Artist Equity Program a success. With that many artists it becomes very expensive to increase pay across the board and we simply can't afford to do so without outside funding."
That's why connectFirst is so excited to be back for our second year to continue our support in doubling payment fees for local artists.
"There's still a lot of room for improvement, but it's important to talk about this issue so that collectively there's more awareness around how artists are compensated," Maud added.
When it comes to supporting artists, Maud shared there's a lot that financial institutions can be doing.
First and foremost- acknowledging how critical it is for artists to have access to more consistent cashflows, by way of loans like lines of credit. She said that given the variable nature of artists' income, having funds available when cash is tight can make or break most artists. Another aspect is being able to get approved for a mortgage – it's challenging enough getting approval as someone who is self-employed, but it's extra difficult when your profession is an artist.
Many artists are focused on their craft and building their careers and they're also running their own business in a way – the business of being an artist. Like any business owner, a base knowledge of managing revenue, expenses, and general finances is critical. Maud said that oftentimes artists struggle with these skills, for a variety of different reasons.

This year, connectFirst is hosting a workshop for Sled Island artists sharing our tips on how artists and musicians can manage unique incomes in the modern economy. We want to help them better understand how to manage their cashflow and financial obligations while also building net-worth and wealth.
Check out our Instagram to hear an excerpt from our interview with Maud and to follow along with all of the exciting things connectFirst has planned this year at Sled Island. To learn more about connectFirst Credit Union visit www.connectfirstcu.com.
(Pictured: A.N. by Britt Rose)
Permalink